Pandemic by Tamuna Melikishvili is one of the finest artistic commentaries on the subject-matter that has defined the modern era. Stylized portraits of strangers and passers-by are inserted on a page of a 1906 architectural album featuring iconic models of Renaissance-style windows. These windows are used as frames for the faces gazing out from within personal space, separated from the outside world, revealing the overarching mood of quarantine through their interests and anticipation, notes of despair and the inevitable psychological tension.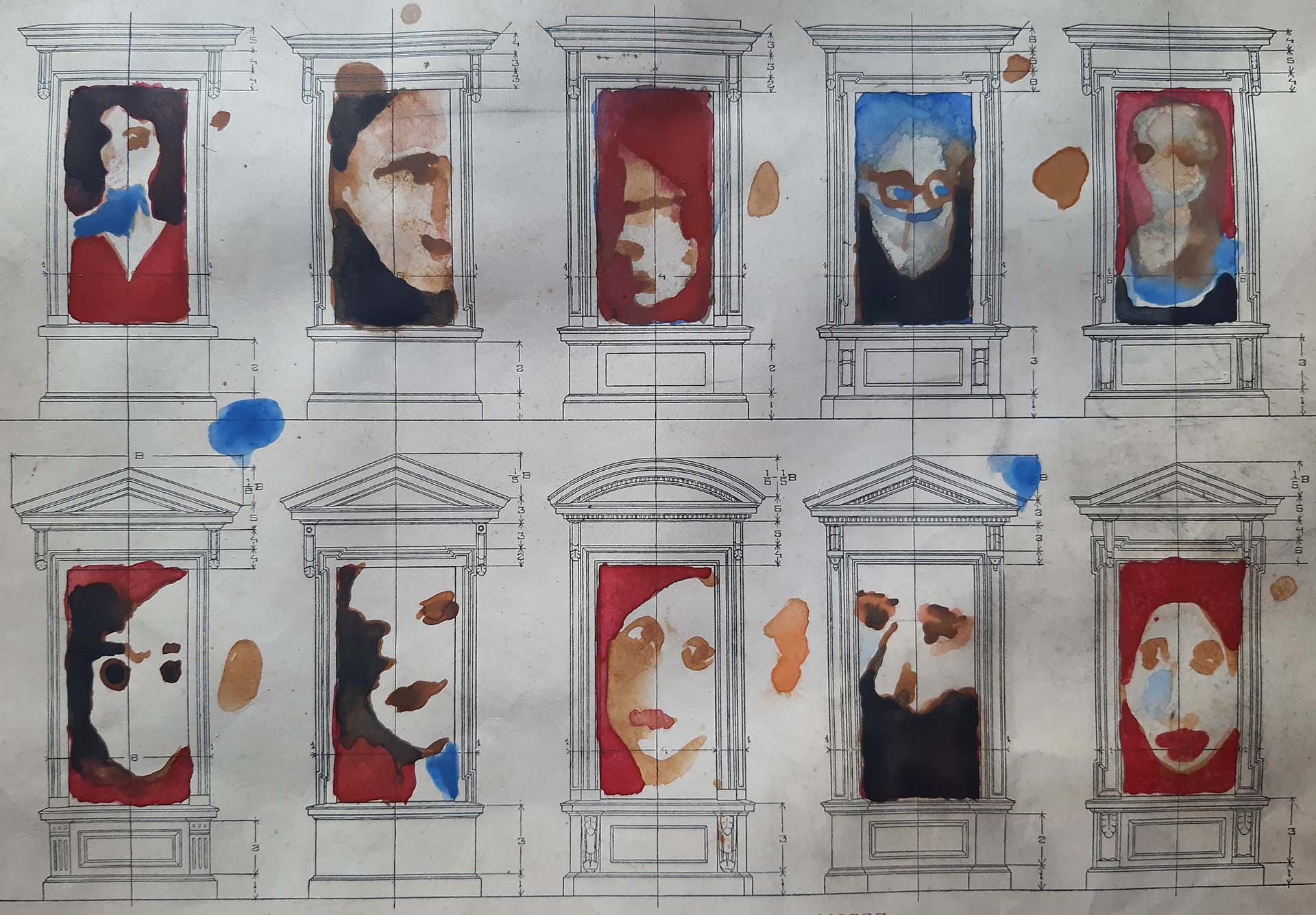 Tamuna Melikishvili. Pandemic. Watercolor, paper. 28X38.2020
The pandemic is certainly not the only subject through which contemporary Georgian art connects with the current global art realm. Whatever is happening in the rest of the world is also present in Georgian visual arts of today: it, too, is diverse and unbound, with artists with a variety of interests and attitudes experimenting with a variety of media and formats.
That was not always the case… Some thirty years ago, the local audience would find it difficult to perceive installations, video art or even abstractions in an exhibition space. Of course, there would still be individual non-conformist artists out there who defied the regime, but their creations were considered illegal and would rarely manage to permeate the public consciousness. As for painting, spectators would mostly associate it with a figurative picture on a wall, created for aesthetic pleasure only. Such view persists to this day, but general attitudes do demonstrate signs of transformation. These changes date back to Perestroika, when the collapse of the Soviet Union became apparent and the previously censored information began to flow into the local realm. The very generation that then saw the need for these transformations, representatives of the 1990s and 2000s, as well as emerging artists at exhibition spaces and across social networks are equally active in the local art process of today.
A number of recent art projects may convey general dynamics of contemporary Georgian art. One of the most significant events of 2019 was Iliko Zautashvili's exhibition How to Catch up with a Dead Hare at the Tbilisi History Museum (Karvasla). Iliko Zautashvili is one of the first Georgian artists to have channeled the language of contemporary art and brought existential and societal issues of the international art scene to attention.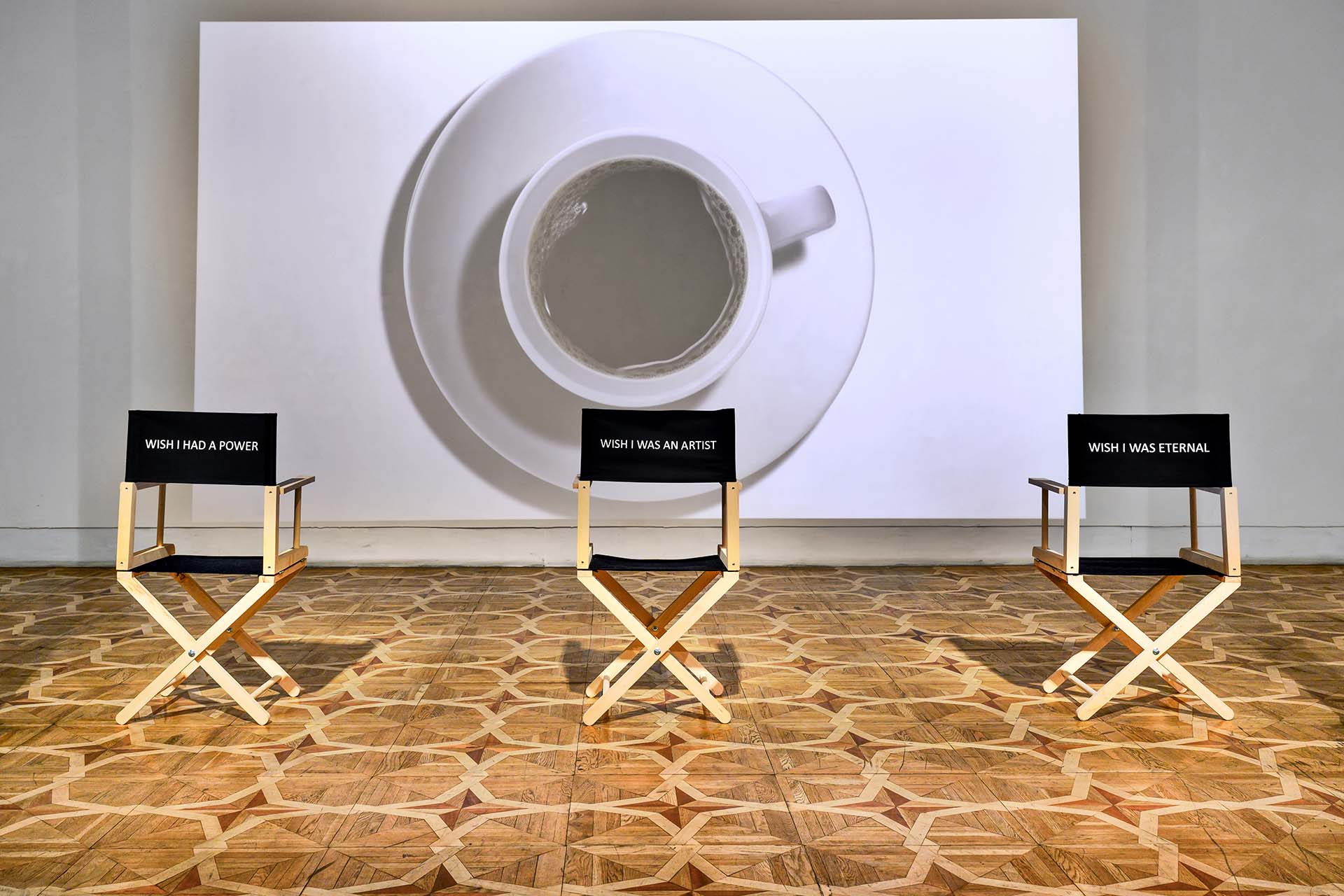 Iliko Zautashvili. Don't make a Wish. Installation, three chairs, text, single channel video projection. 2019. Photo: Rafael Arzumanov
The title of his solo show is an allusion to works of Joseph Beuys, suggesting the very inclination towards western art that ended up influencing recent history of Georgian art. Luka Lasareishvili and Zura Arabidze presented a protest performance From Perestroika till Today at the Chubinashvili Center. The performance was based on a critical and reflexive vision of the modern context and was meant to bring forth the issue of a wall, a barrier, an obstacle, which persists in our consciousness to this day, in spite of apparent historical changes.
Exhibition hall at the National Library hosted the Form and Space exposition, with primary focus on sculpture and sculptors—one of the most challenging fields of our time, as the local tradition of viewing sculpture as an ideological symbol is yet to be ousted. The project focused on the very works by artists from a variety of generations that portrayed free and diverse models of relationship between form and space.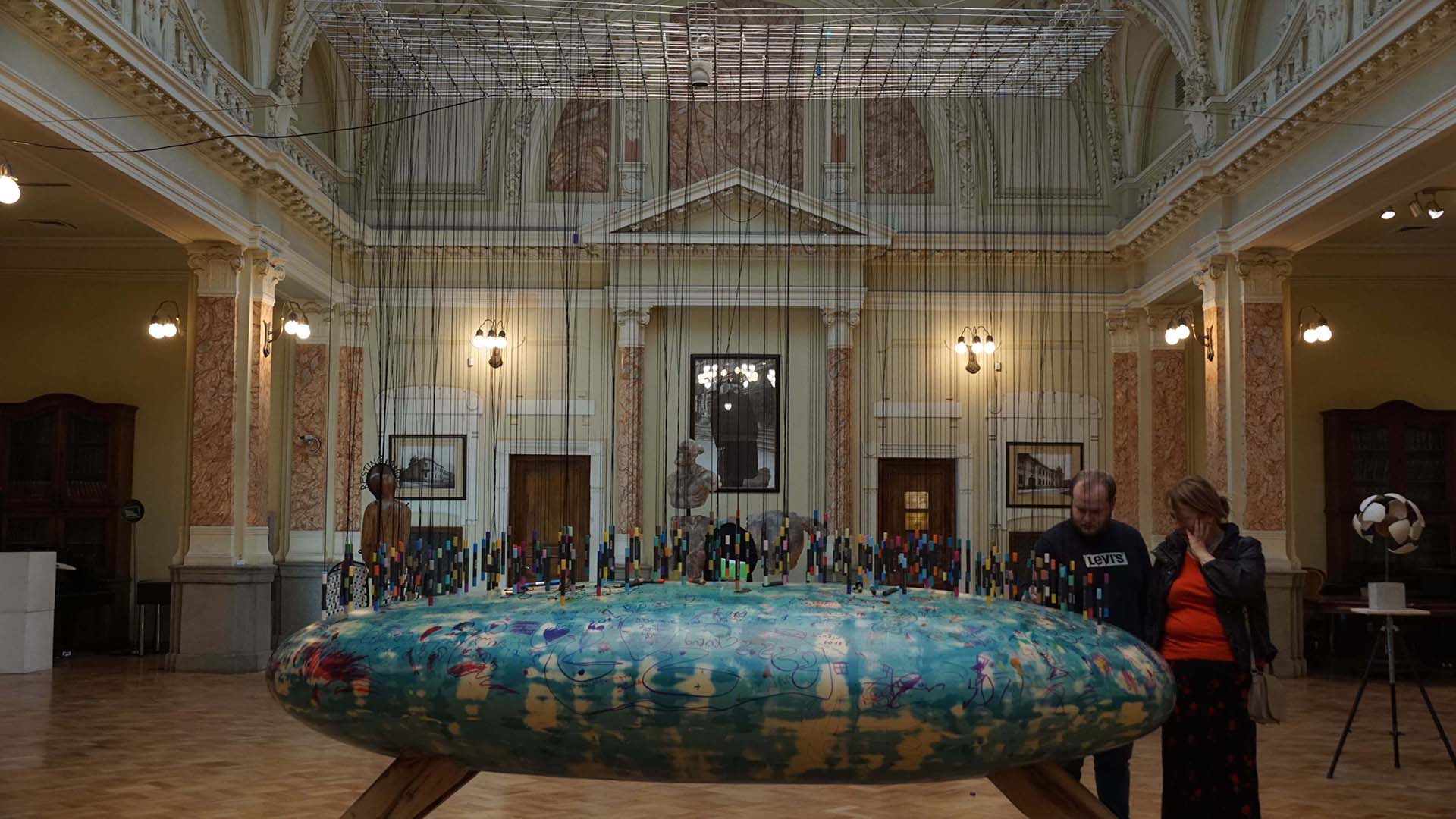 Misha Svanidze. Fat Table. Mixed media. Exhibition Form and Space. National Parliamentary Library of Georgia. 2019.

Dédicace Gallery displayed the light installation by Giorgi Maghradze as part of its Glass Cube project at the Wine Factory. And the list goes on, of course. While 2019 was jam-packed with art spectacles, 2020 has been radically different. Isolation resulting from the pandemic has portrayed interest towards visual arts in a whole new light, showing rise of a variety of groups across social networks where artists display their works, or collectors introduce their collections to each other or the wider public.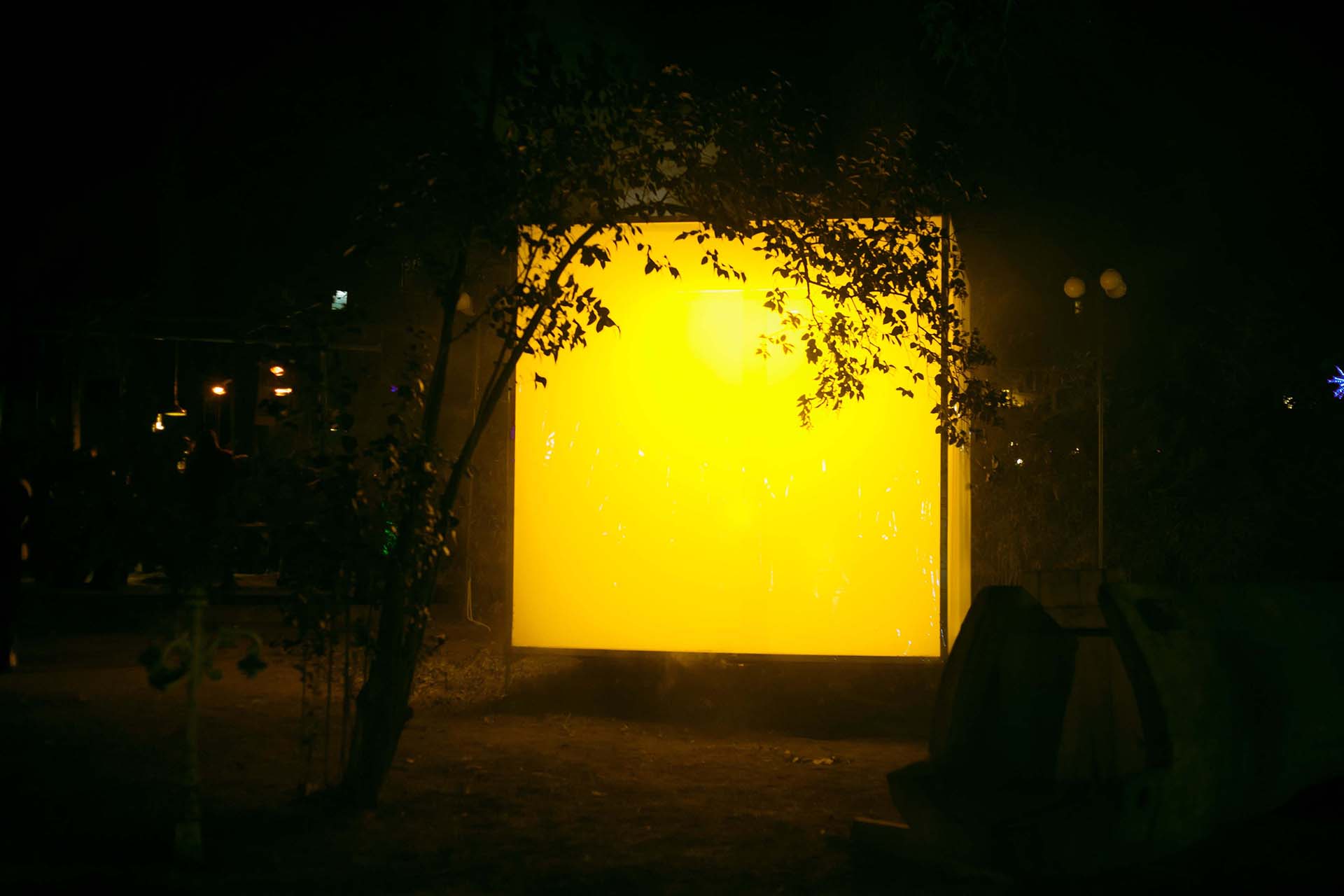 Giorgi Maghradze. Light Installation. Dedicace Gallery Project. 2019

Tato Akhalkatsishvili presented his new large-scale work titled EGO SUM UNICUM EXITUS online as well. The work is based on allusions of allegorical images from Renaissance murals and manuscripts. A lot goes on in this piece: organized action of strange, unidentified creatures, who seem to be wearing masks or might as well be extraterrestrials. This piece is a hallucination of sorts, drawing on iconographic accents from the history of painting and somewhat Lynchian with its visual language. This fresh piece by Tato Akhalkatsishvili is but portrayal of the commonplace—an interim, borderline state of being. His painting is always on the edge, resembling a ritual in the name of two-faced Janus and thus conveying the remarkable, enigmatic and overwhelming psycho-emotional trance of a given moment.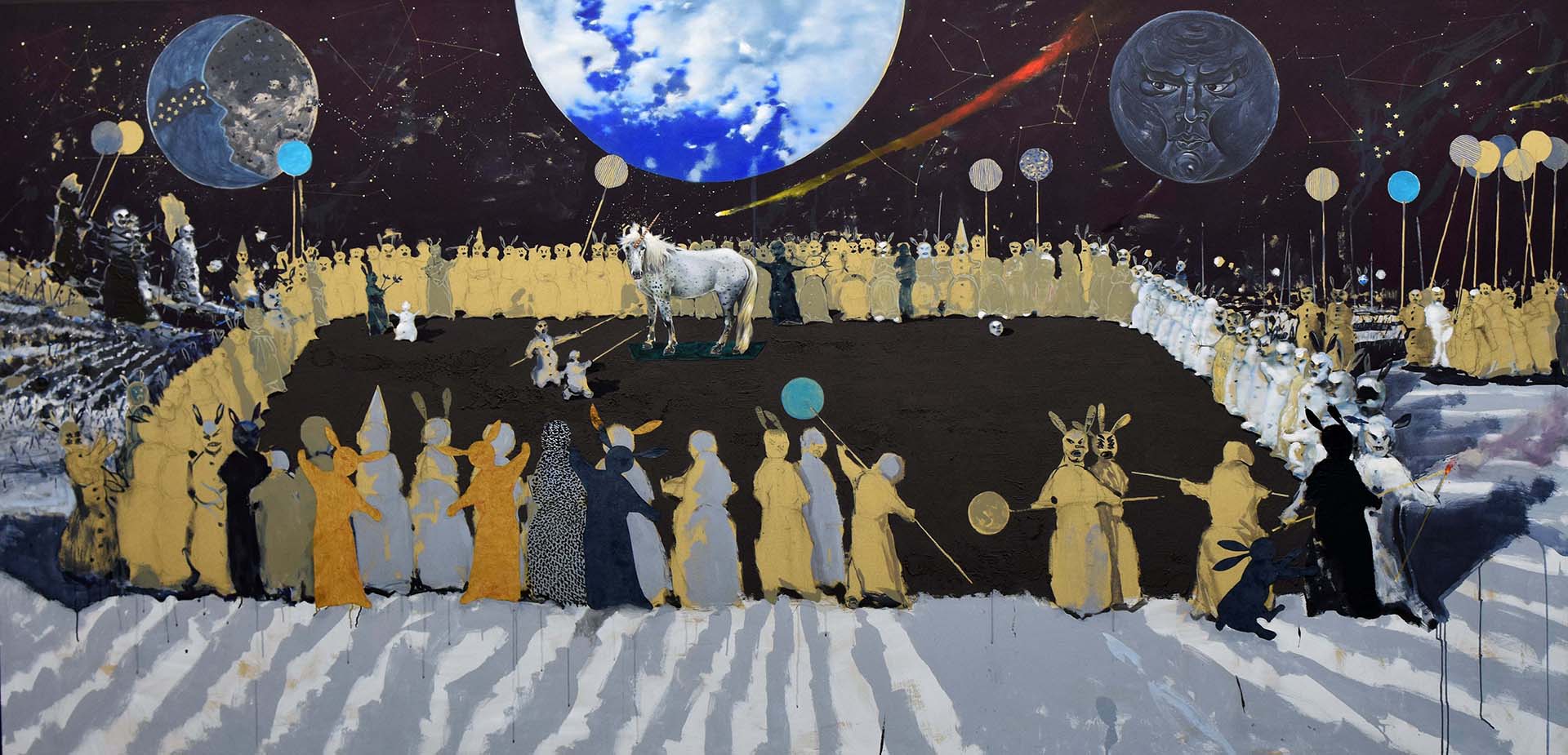 Tato Akhalkatsishvili. EGO SUM UNICUM EXITUS. 152×300 cm. mixed media on canvas. 2020
Several young artists, commonly referred to as promising artists, displayed their new work online also. Expressive series by Tedo Rekhviashvili and self-portrait and Orpheus in the Underworld comics by Demetre Gelbakhiani, as well as expressionist and conceptual pieces by Natalia Lashkhi ended up gaining considerable popularity across social media.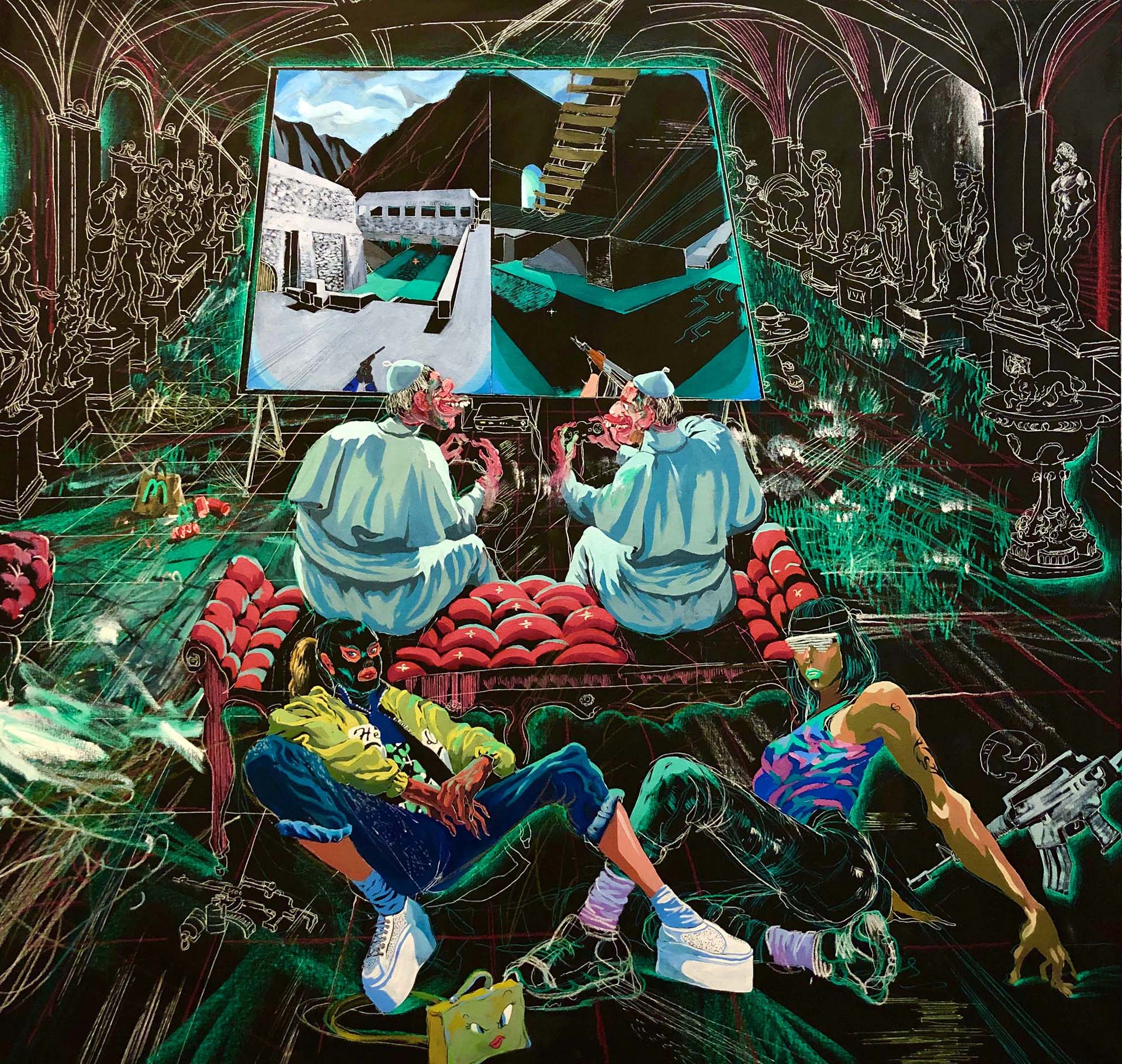 Tedo Rekhviashvili. De aztec. Oil, acrilyc, crayon, ink, pencil on canvas. 60X60 inches.2020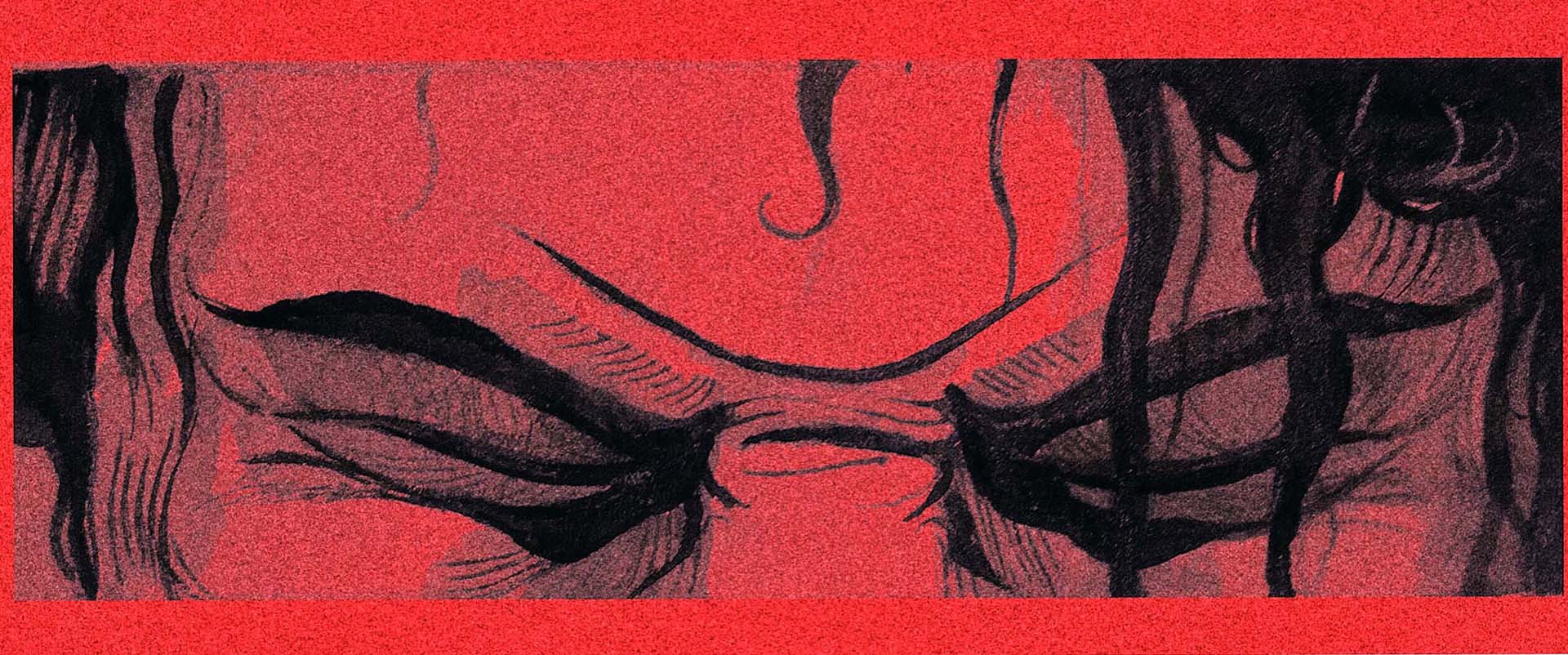 Demetre Gelbakhiani. Orpheus. From ccomics series. Ink on paper. 2020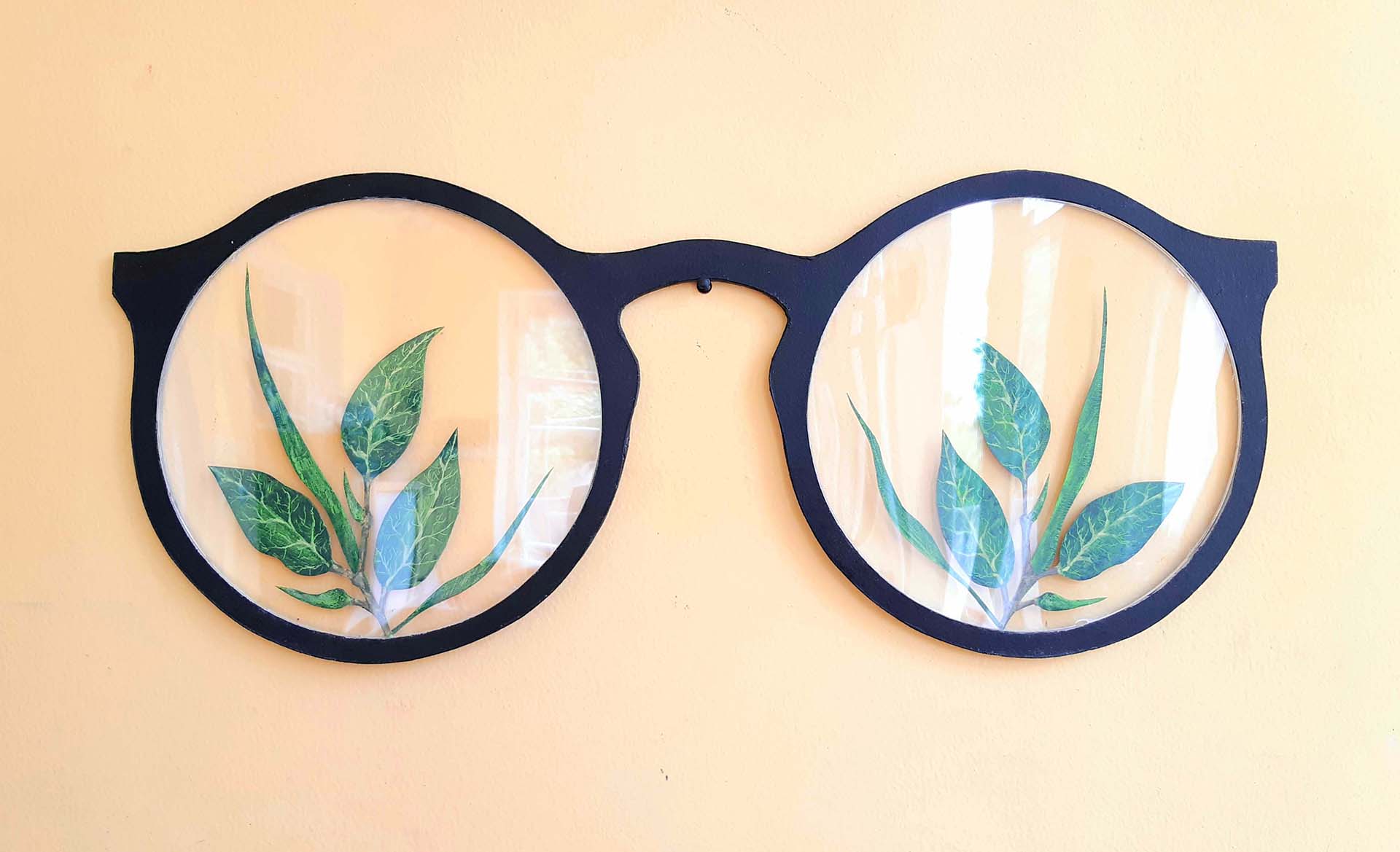 Natalia Lashkhi. Chrolophilia.Object. Mixed media. Glass, Carboard, acrylic, Oil. 67X28X1.2020
It could be argued that lifestyle transformation caused by the pandemic has contributed to changes in how people view art as well: rising appreciation for public spaces, opportunity to visit galleries and museums, and personal contact with art in general is undeniable.
Gods Winking at Gods exhibit by Giorgi Shalikashvili is already scheduled to be presented at MAUDI, an artist-run exhibition space, in early September. Giorgi Shalikashvili is a young artist, an active participant of the Georgian art process, who stands out with his intellectual interests, critical thinking, and distinct emphasis on image quality.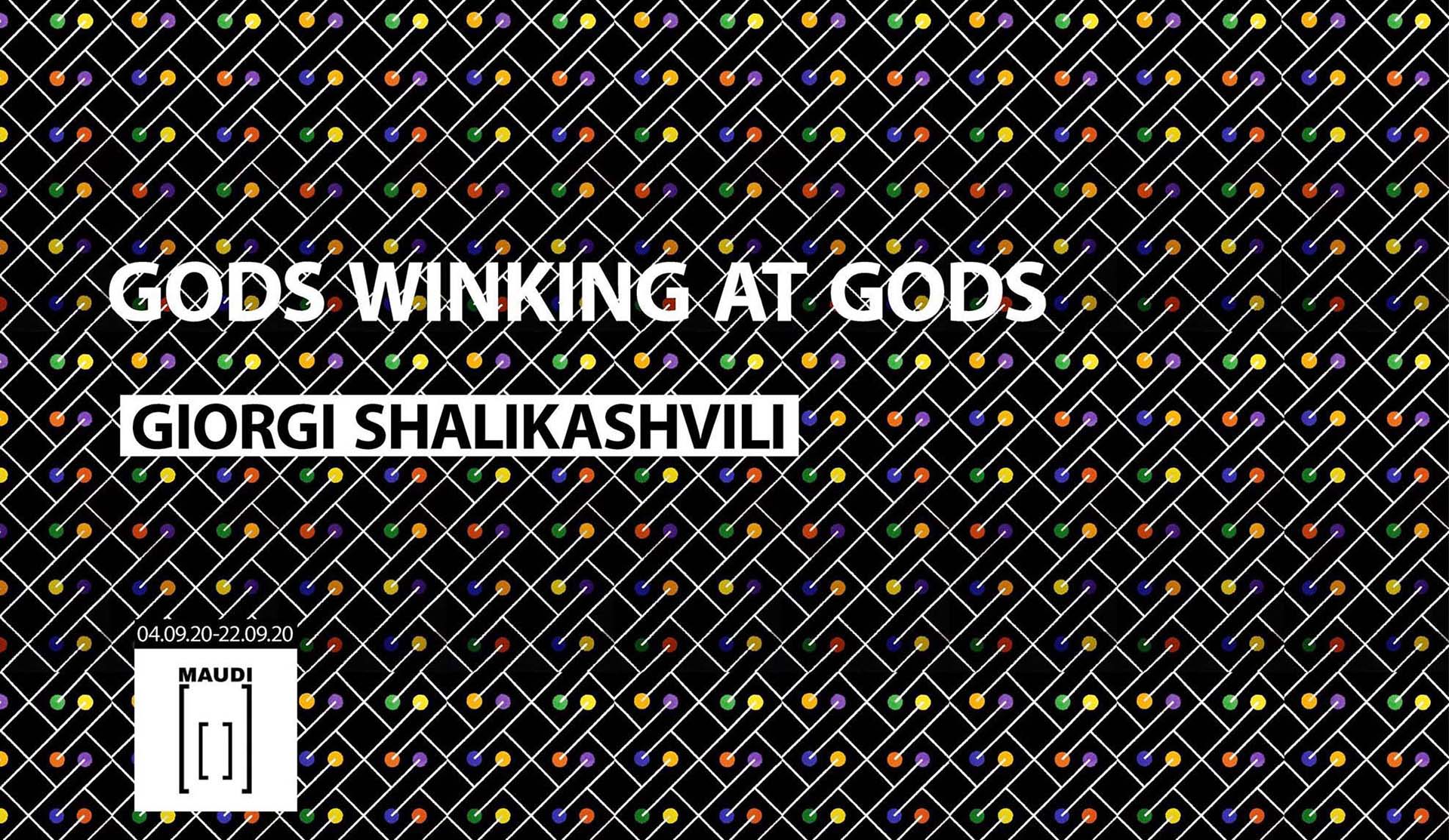 Giorgi Shalikashvili. Gods Winking at Gods. Exhibition poster.2020
Earlier this year, MAUDI also presented a 10-hour performance by Andro Dadiani—Maintenance is a Verb, which the author summarized as "a performance about lost friends, solitude, and subdued syntax."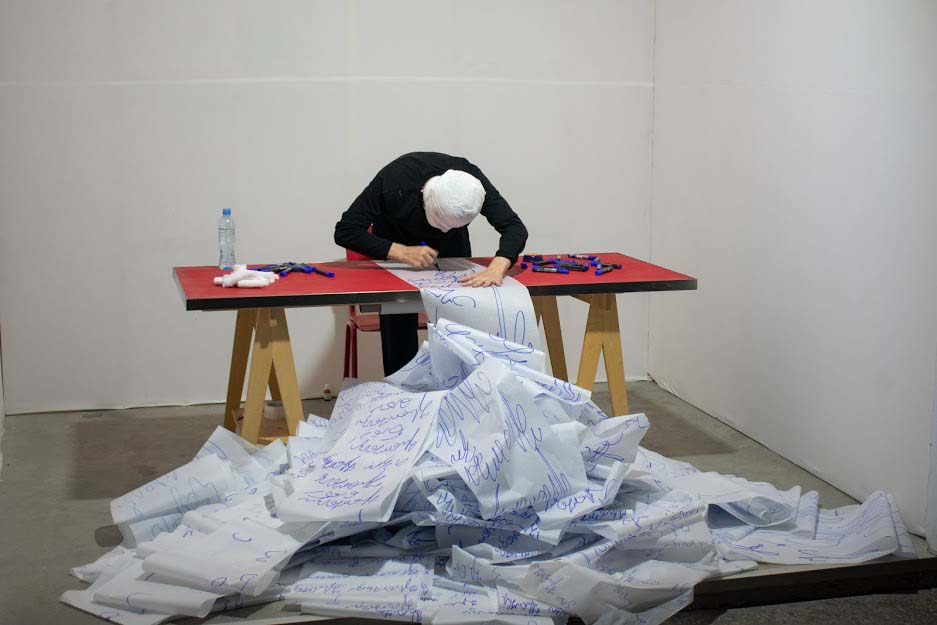 Andro Dadiani.

Maintenance is a Verb. Performance at Maudi. Photo: © kerosene_on_ice. 2020




Georgian artists naturally contemplate the future as much as artists all over the globe do. Even though it is impossible to predict the future, recent events have demonstrated that art continues to be created amidst the strangest times and finds a way to reach its audiences and allies. And that certainly does not imply the pathos of "art can change the world," but rather is an emphasis on the fact that artists react to changes, and that sometimes, art ends up changing lives.


Khatuna Khabuliani

Art Historian, PhD