The emergence of landscape painting as a distinct genre within Georgian fine art can be attributed to the period of Georgian painting that dates back to the 1910s and 1920s. At that time, the landscape evolved into a fully developed artistic phenomenon, which gave rise to the fundamental characteristics of Georgian easel painting. It became a central theme among the artists of that period, and was actively employed by nearly every representative of the new generation.

Elene Akhvlediani. Tbilisi. 77х30. Paper, mixed media. 1964. This work is part of ATINATI Private Collection

Nonetheless, it is worth highlighting two especially notable figures: David Kakabadze and Elene Akhvlediani, modernist artists who Leo Rcheulishvili declared to be the pioneers of landscape easel painting in Georgian art. These two prominent figures in Georgian fine art sought their creative inspiration through the landscape, albeit in entirely disparate ways: for E. Akhvlediani, it was about capturing her own temperament and momentary emotions within the context of a particular landscape; while for D. Kakabadze, the landscape served as the ideal means for conveying the grandeur, transience, and modernity of the world. E. Akhvlediani infused every landscape she depicted with a unique and essential aesthetic sensibility, which held great significance for her. Her work within the landscape genre consistently achieved a dramatic resonance. All the same, Akhvlediani's "dramatic quality" emerged primarily from the author's subjectivity – it represented the artist's emotional self-expression intertwined with the portrayal of nature. For this reason, in her works the landscape elements and seasonal events are subject to less rigid selection criteria: architecture, figures of people, snow, fog, blizzards, bright sunshine, and rain are all afforded equal significance in her landscapes. E. Akhvlediani consistently offers a unique perspective on each landscape, imbued with distinct creative nuances and aesthetic sentiments, while also adhering to fundamental authorial artistic principles. The artist's individuality shines through in each specific painting.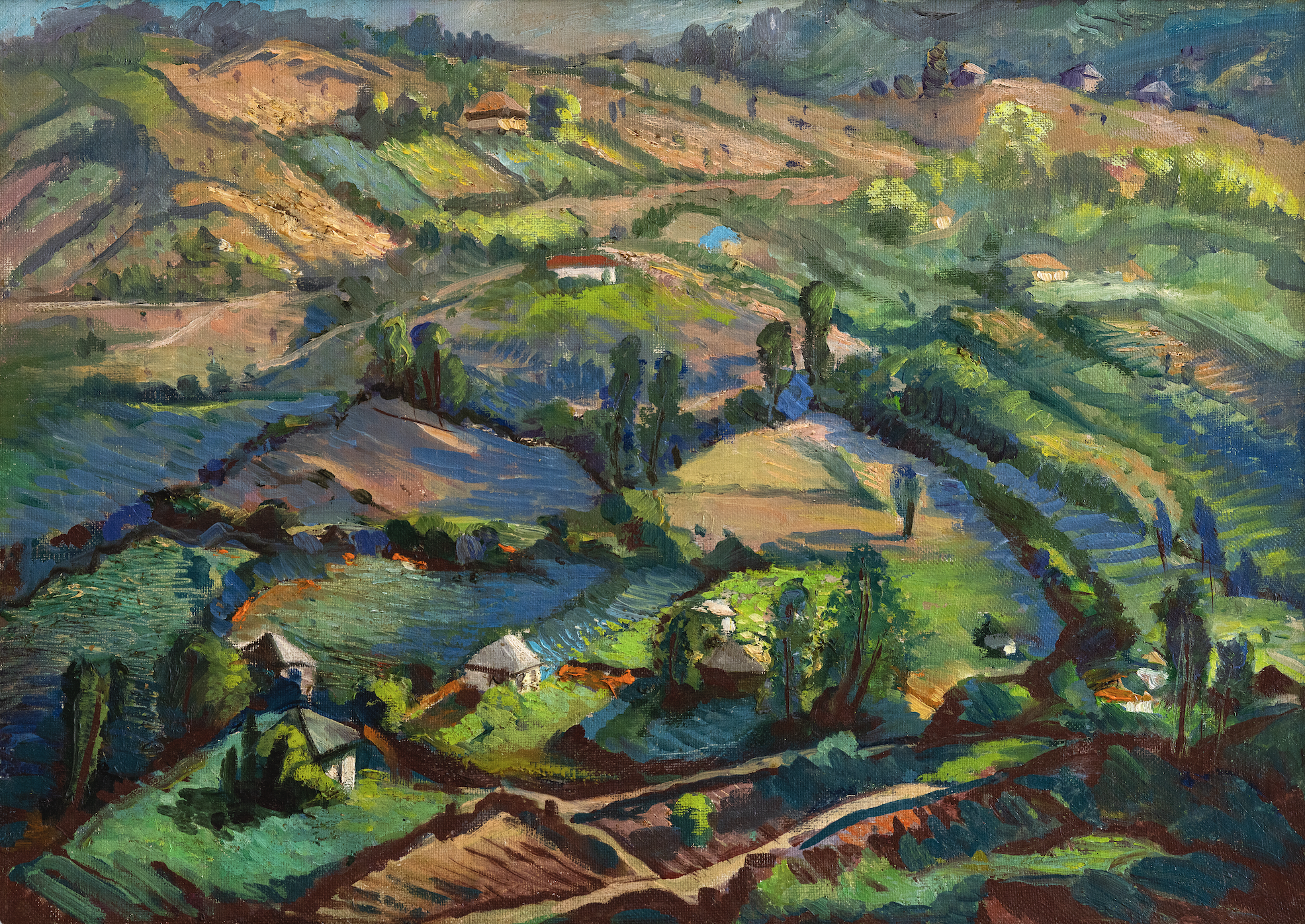 Elene Akhvlediani. Vachevi. 49,5х70. Canvas, oil. 1962. This work is part of ATINATI Private Collection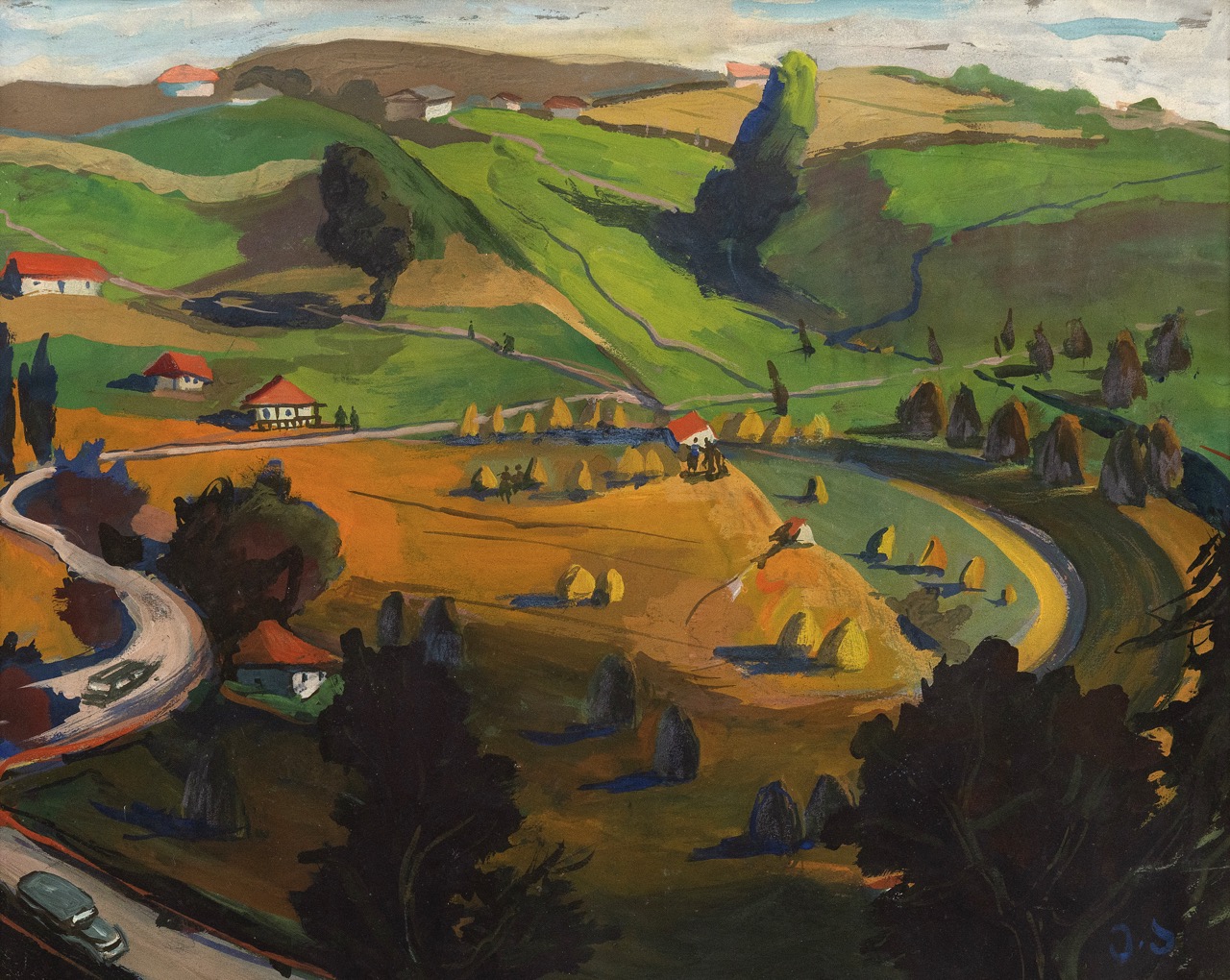 Elene Akhvlediani. Pasanauri area. 40x50. Paper, gouache. This work is part of ATINATI Private Collection

Elene cultivated a deep fascination with architecture, and the urban landscape played a significant role in her artistic oeuvre. Examples of architectural motifs depicted in her paintings can also be discovered within the realm of 20th-century Georgian fine art. The architectural character of Tbilisi itself served as a wellspring of inspiration for numerous Georgian as well as non-Georgian artists. Painters such as G. Gabashvili, D. Kakabadze, and Sh. Kikodze, among others, made periodic attempts at capturing the streets and squares adorned with architectural landmarks, but no artist dedicated themself to these motifs more passionately than Elene Akhvlediani. When discussing the portrayal of architecture in Georgian painting, one cannot help but think first and foremost of Elene Akhvlediani. Her creative work relates a beautiful story of the relationship between painting and architecture, which became an inseparable muse for her. Within her creative portfolio, it is a rare landscape where you cannot discern architectural fragments such as rural houses dotting the hillsides, balconied residences, the rooftops of multi-story buildings in the city, or a bridge vanishing into the mist. The artist was drawn to the natural and architectural beauty both in her homeland and in foreign countries. Her primary focus was the discovery of captivating architectural motifs, which she then interpreted with her own artistic expression. She took these motifs, refined them, and brought them to life through her artwork. For instance, when she painted the streets of Paris, Elene Akhvlediani avoided portraying the bustling tourist hotspots. She remained indifferent to the bohemian allure of the Champs-Élysées or the grand boulevards. Instead, she was fascinated by the quaint mansard roofed houses that nestled within the charming, historic streets and the picturesque Paris rooftops. At first glance, the most striking feature of her "Views of Paris" is the artist's deliberate incorporation of architectural elements, which appear to dominate the composition. The artist treated these architectural façades as if they were a wellspring of vitality, often layering images of houses onto the picture plane in a very dense fashion. To breathe life into the landscape, she employed a variety of compositional techniques. At times, it seems as though she was painting from within a building, selecting elevated vantage points and utilizing sharp angles: in effect framing the lower sections of the structures. In other instances, the viewer is placed in the very midst of the bustling street alongside the artist, surrounded by the vibrant façades of the houses, and fully immersed in the cityscape.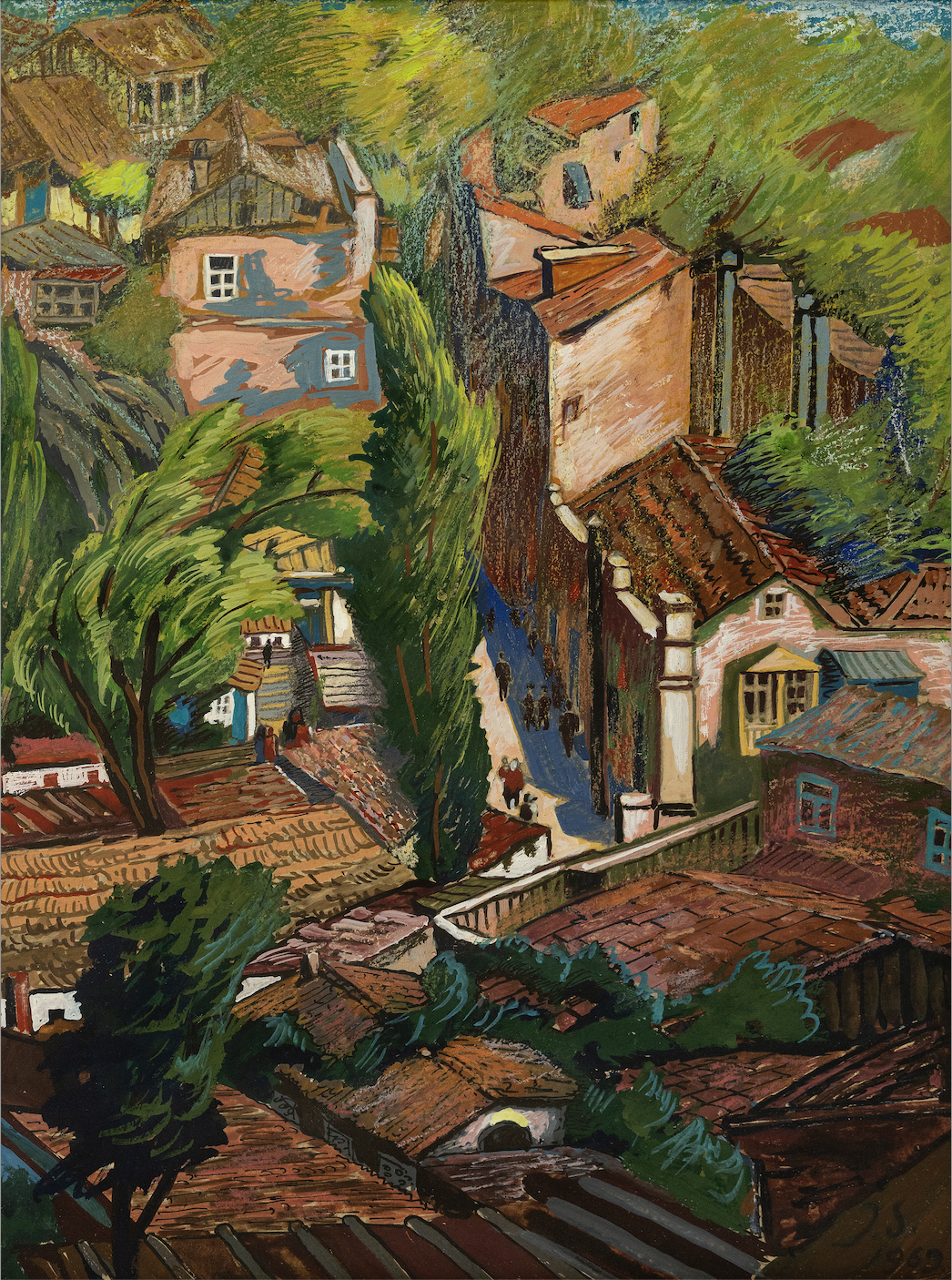 Elene Akhvlediani. Tbilisi. 40х30. Paper, gouache. 1969. This work is part of ATINATI Private Collection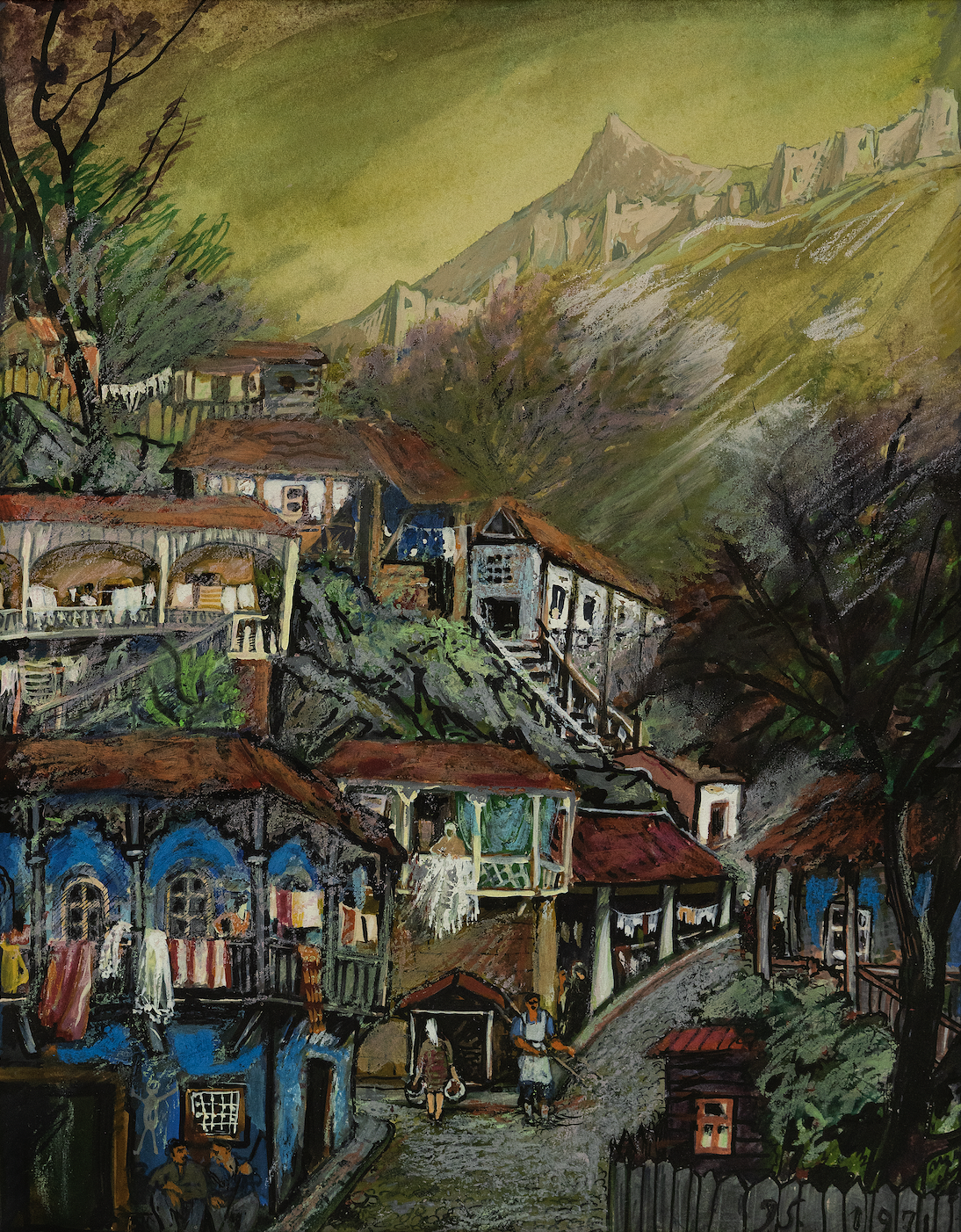 Elene Akhvlediani. Old Tbilisi Corner. 29,5x22,5. Gouache on cardboard, mixed technique. 1971. This work is part of ATINATI Private Collection

Elene Akhvlediani held a particular place in her heart for the architectural charm of Tbilisi, particularly the historic district known as "Old Tbilisi." Akhvlediani's interpretation of the image of "Old Tbilisi" possesses a distinctive and poetic quality that is characterized by her innate sense of decoration. "Just as Lado Gudiashvili embodied the bohemian figure of Old Tbilisi's Karachokhelis in his art, Elene Akhvlediani captured on canvas the unique marvel of Old Tbilisi's architectural splendor, offering us her pictorial rendition of it," as Leo Rcheulishvili declared. Elene Akhvlediani's depictions of Tbilisi can be seen as a series of city portraits, each one captured by the artist in various moods, all of them skillfully and spontaneously observed with her keen eye.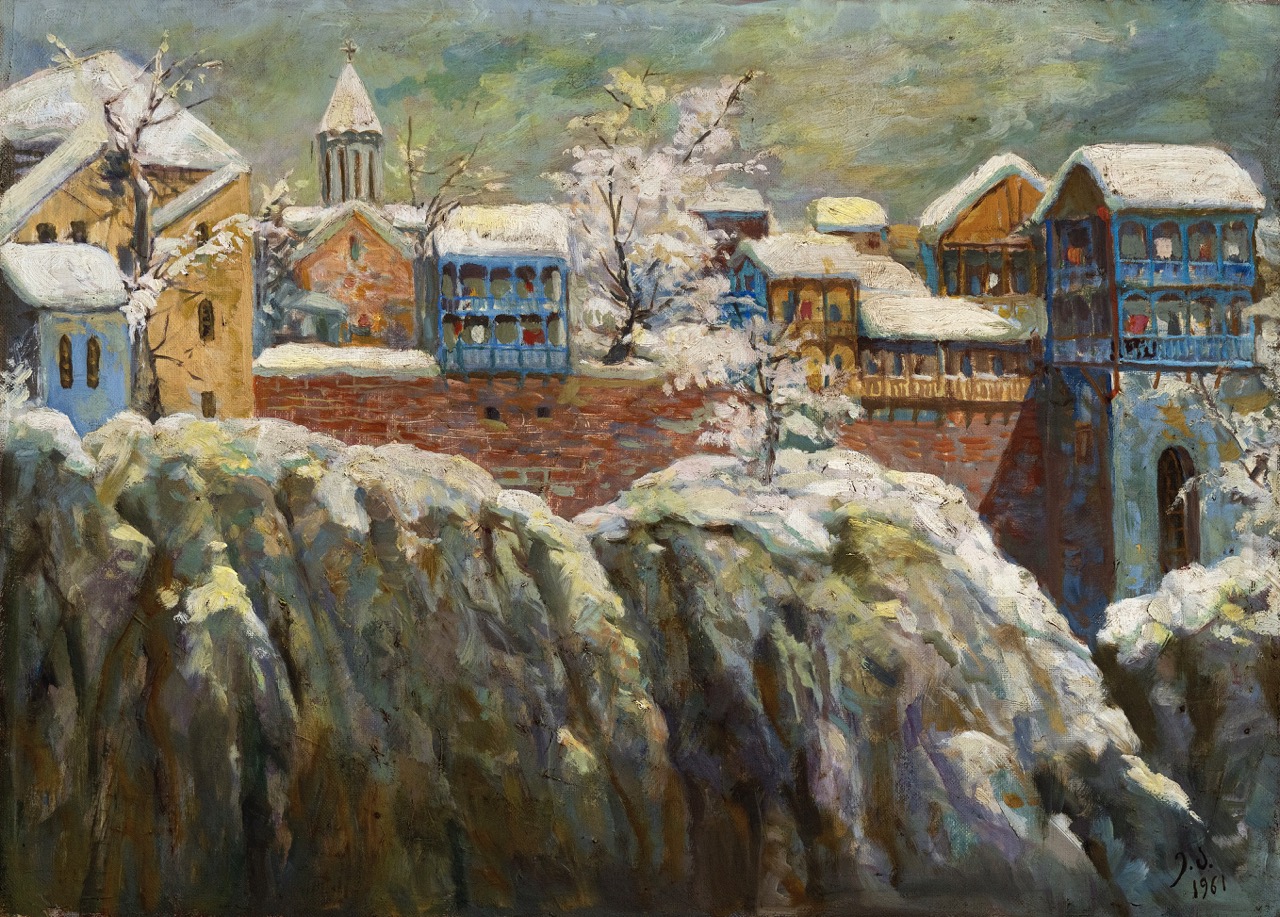 Elene Akhvlediani. Winter. 50X70. Canvas, oil. 1961. This work is part of ATINATI Private Collection

When discussing E. Akhvlediani's architectural landscapes, it is essential to highlight the decorative and picturesque qualities they possess. Color is of the utmost importance in her artistic compositions, serving as the primary and decisive element in shaping her creative identity. Color plays a paramount role in Elene Akhvlediani's artworks: oscillating between intense and vibrant hues, or adopting more subdued and muted qualities. In almost every instance, color takes the center stage, fundamentally shaping the overall mood of her work and establishing the key focal points. Akhvlediani's approach to color was distinctly decorative, utilizing sharp tonal accents and heightened pictorial elements, which in turn imbue her paintings with striking emotional depth. This approach not only enhances the emotional impact, but also enriches the sense of rhythm within her art. On occasion, the rhythmic flowing lines within the composition appear to writhe in a restless fashion, frequently weaving through its depths. These lines are generated by the inherent demands of the architectural motifs themselves. Elene Akhvlediani possessed a unique and unmistakable artistic sensitivity, which enabled her to keenly feel the rhythmic vibration of architecture. As a result of her extraordinary skill, she managed to capture this essence on canvas with unwavering conviction and a rare charm, and all of this was executed through her often invisible artistic techniques. That said, during the latter period of the artist's life, a decorative aspect that resembles intricate embroidery with white silk threads seemed to take precedence in her works. It became a distinct focal point for the artist. In these pieces, the architectural motifs that are depicted no longer retain their typical structural integrity or their intrinsic connection to the wellspring of inspiration which is Old Tbilisi.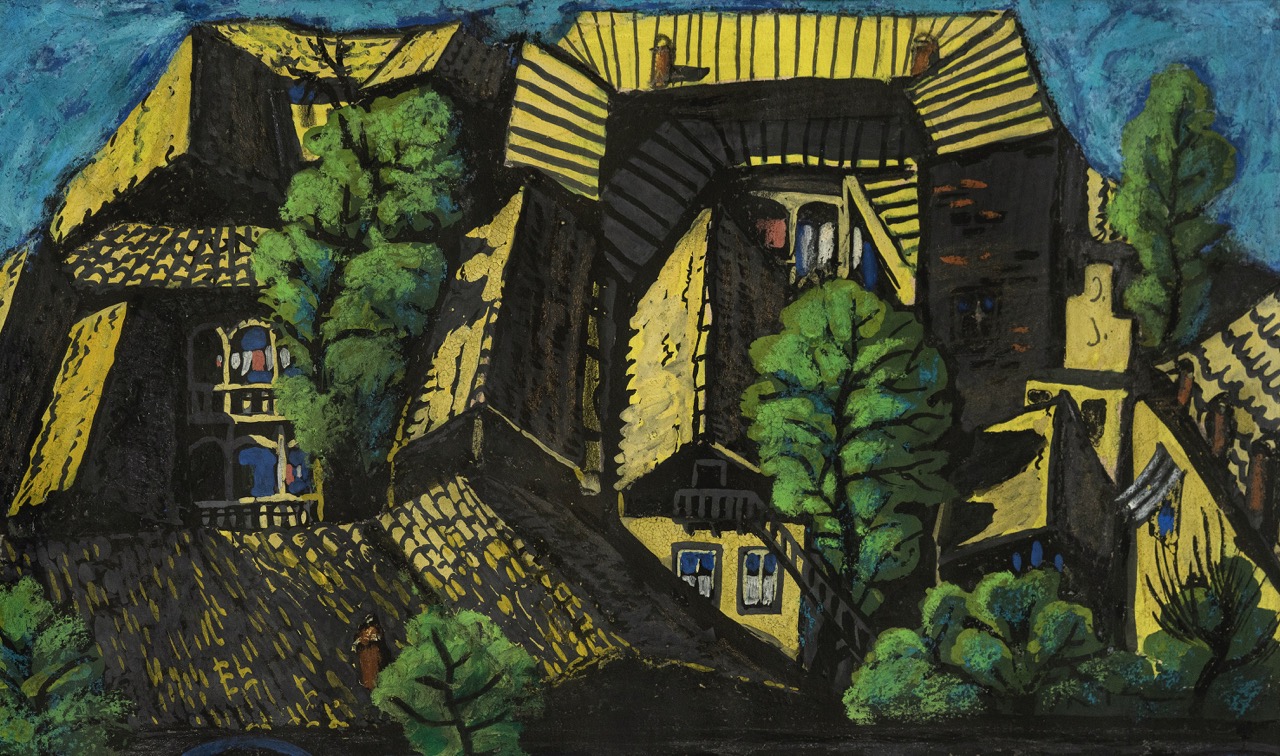 Elene Akhvlediani. Corner of Old Tbilisi. 17,5x29,5. Paper, gouache. This work is part of ATINATI Private Collection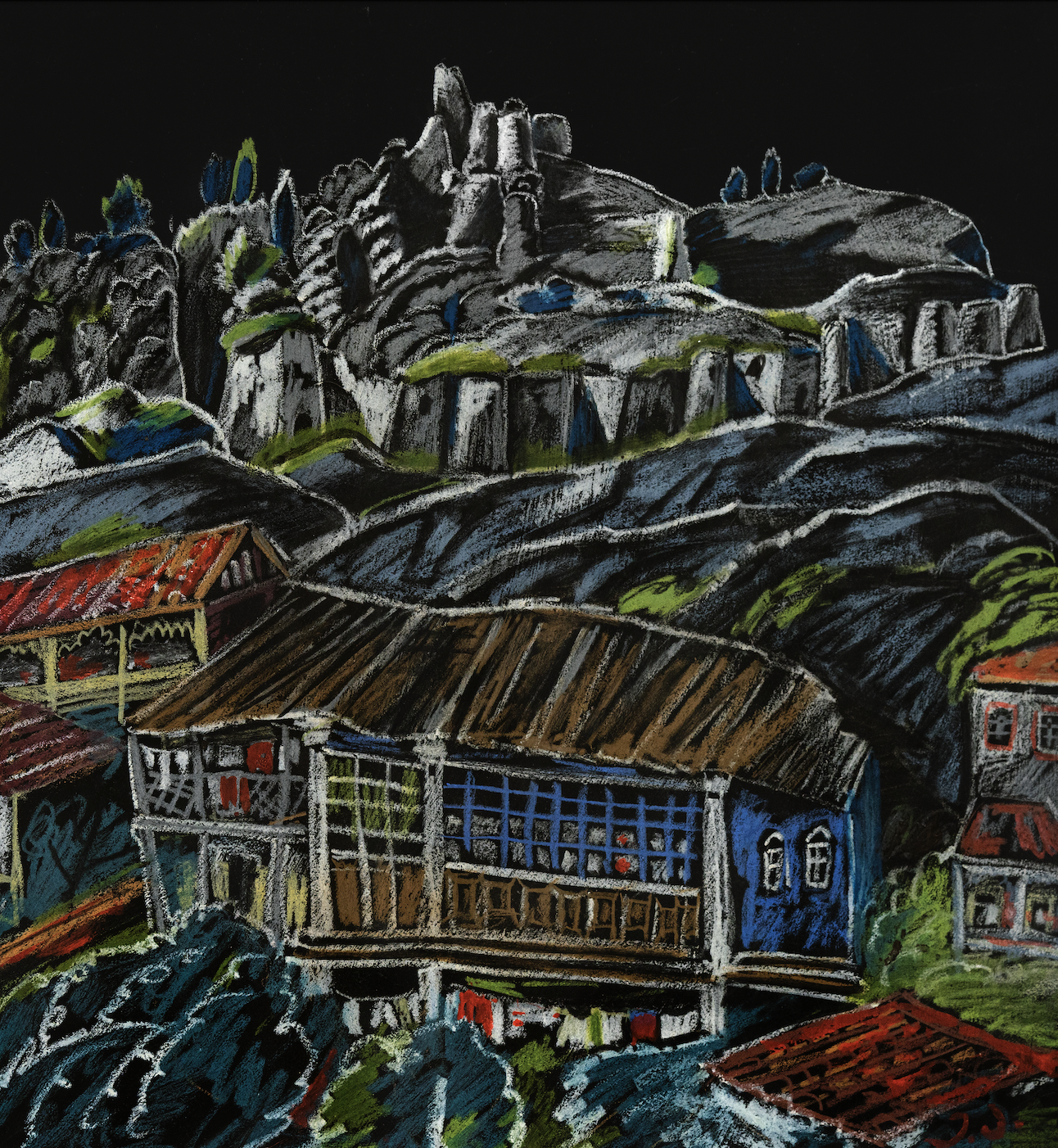 Elene Akhvlediani. Old Tbilisi. 29,7x26,5. Carton, pastel. 1973. This work is part of ATINATI Private Collection

Nevertheless, we must acknowledge that this beloved female artist, who is most highly regarded in Georgia, discovered her truest inspiration in the realm of architectural motifs. It was from architecture that Akhvlediani meticulously carved the artistic essence of her creative oeuvre. Yet she managed to walk the tightrope, demonstrating a remarkable ability to navigate the delicate balance between adjacent forms of art without compromising the integrity of either. She neither subjugated architecture to the dominion of painting, nor rendered painting wholly subservient to architecture. Elene Akhvlediani's paintings serve as an outstanding example of the harmonious fusion between these two artistic disciplines. Her work represents an artistic realm where two potent sources of creative inspiration - architecture and painting - intersect and complement each other.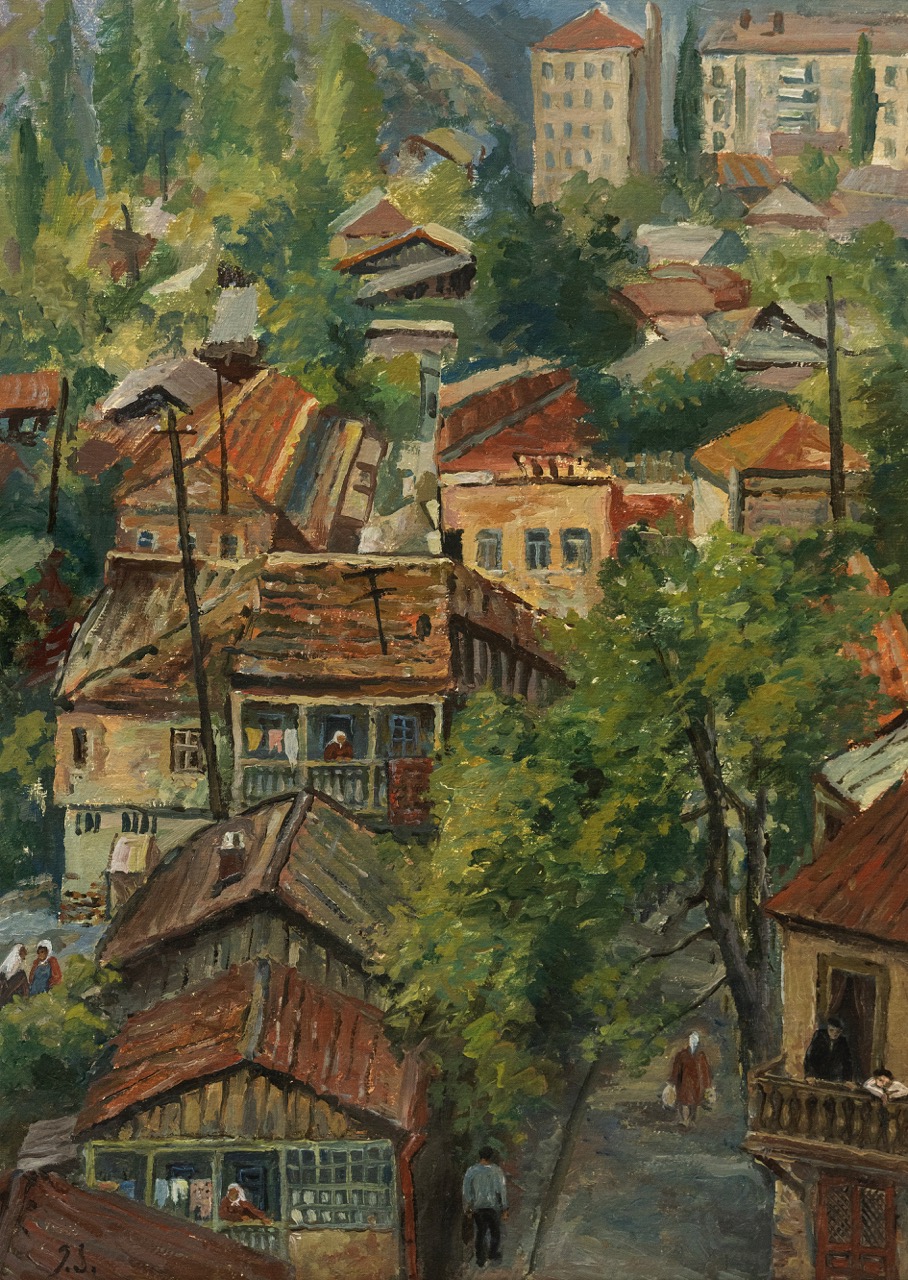 Elene Akhvlediani. Old Tbilisi. Canvas, oil. This work is part of ATINATI Private Collection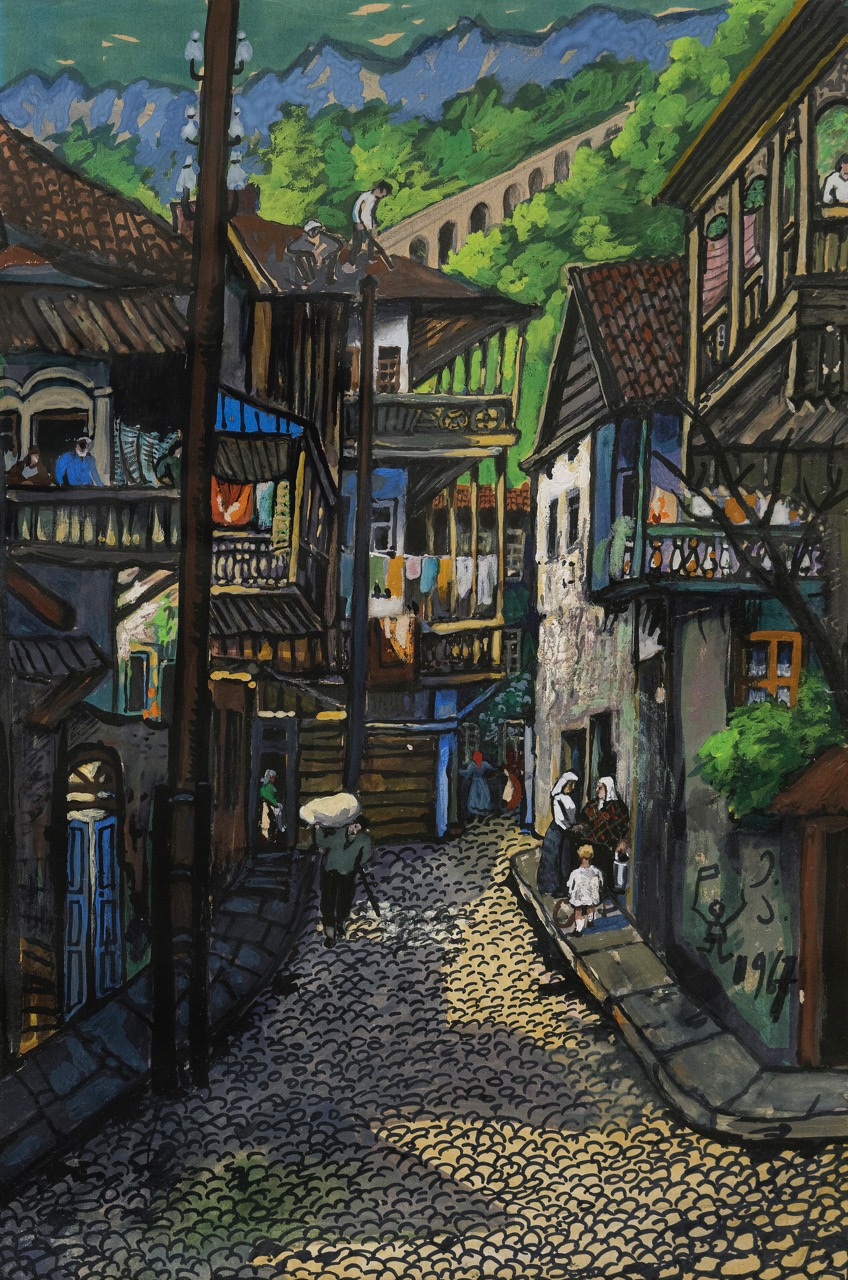 Elene Akhvlediani. Old Tbilisi. 42x26. Paper, mixed technique. This work is part of ATINATI Private Collection
In conclusion, it would not perhaps be an overstatement to assert that David Kakabadze and Elene Akhvlediani crafted two quite distinct and contrasting paradigms of the landscape genre within Georgian easel painting. They bestowed upon us a sort of "alpha and omega" of the Georgian landscape, effectively charting the primary trajectories for subsequent generations of artists. The path leading to Elene Akhvlediani's landscapes appears to be the more accessible journey, since it traverses the boundaries of the artist's emotional individuality and innate talent. David Kakabadze demands a preconceived approach that involves a definition of the artistic objective from the outset, combined with the selection of appropriate technical methods. What truly matters, however, is not merely the starting point, but the outcome that each creator manages to accomplish through their unique set of talents and artistic explorations. The distinctive quests of various artists have, in turn, shaped the future developmental trajectory of Georgian landscape art.