Sergei Parajanov (1924 - 1990) is considered as one of the 20th century's greatest masters of cinema. His free cinematic forms, expressive power and originality of visual compositions still continue to impress filmmakers today.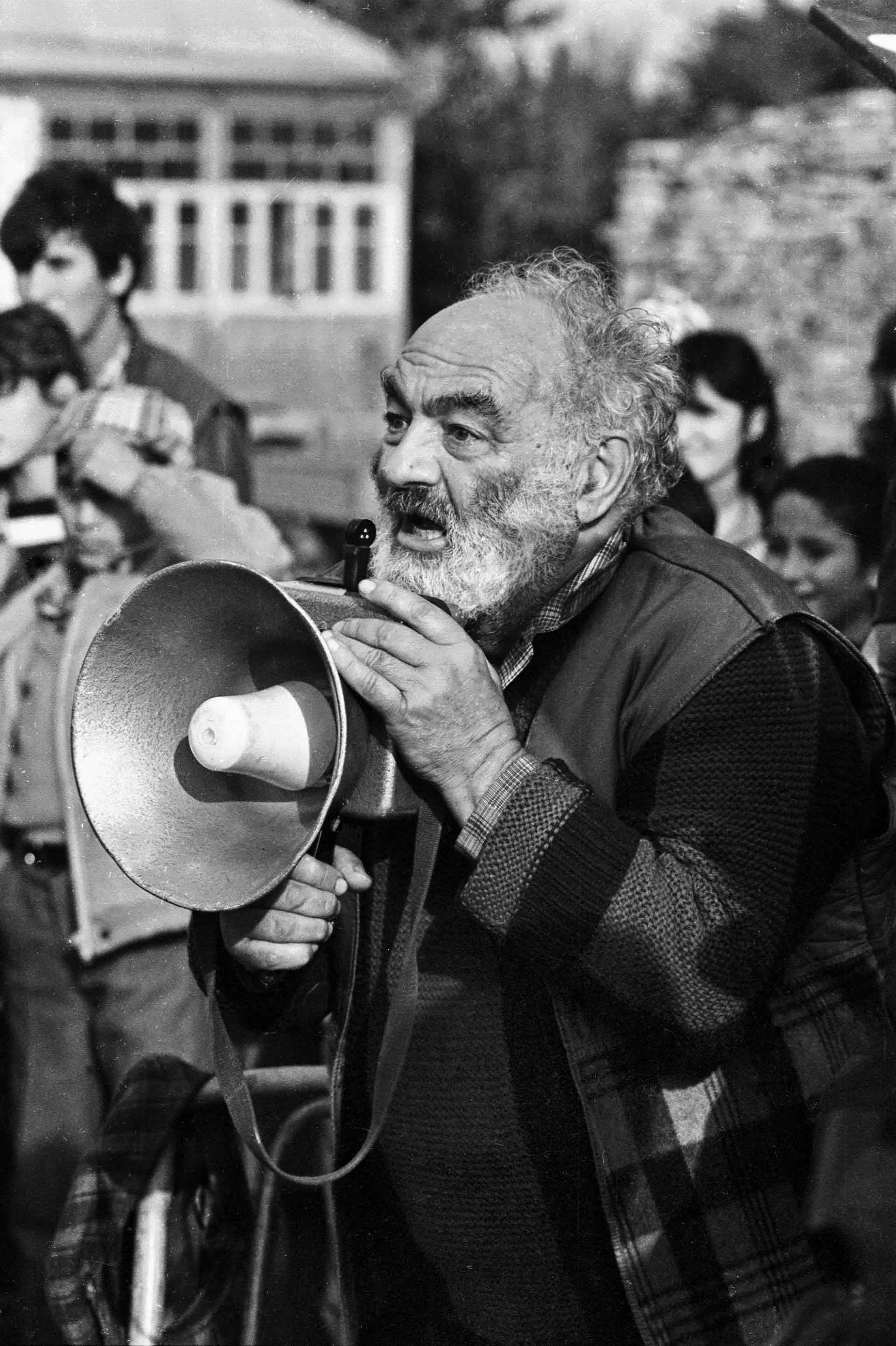 Working on the set of the film "Ashik Kerib". 1985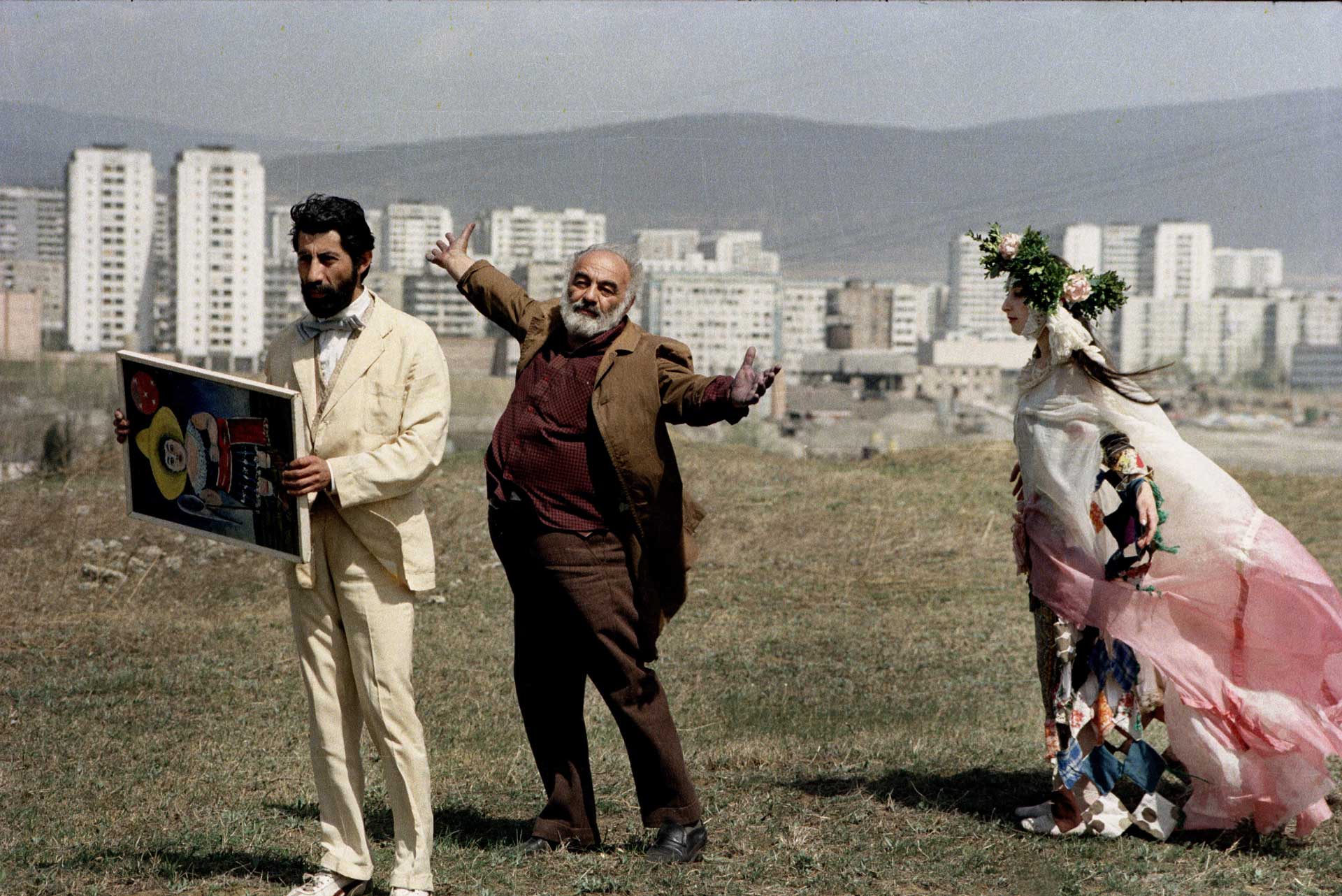 Shooting of the short film "Arabesques on the Pirosmani Theme" with the artist Alexander Janshiev, a close relative of Parajanov, in the role of Pirosmani. 1985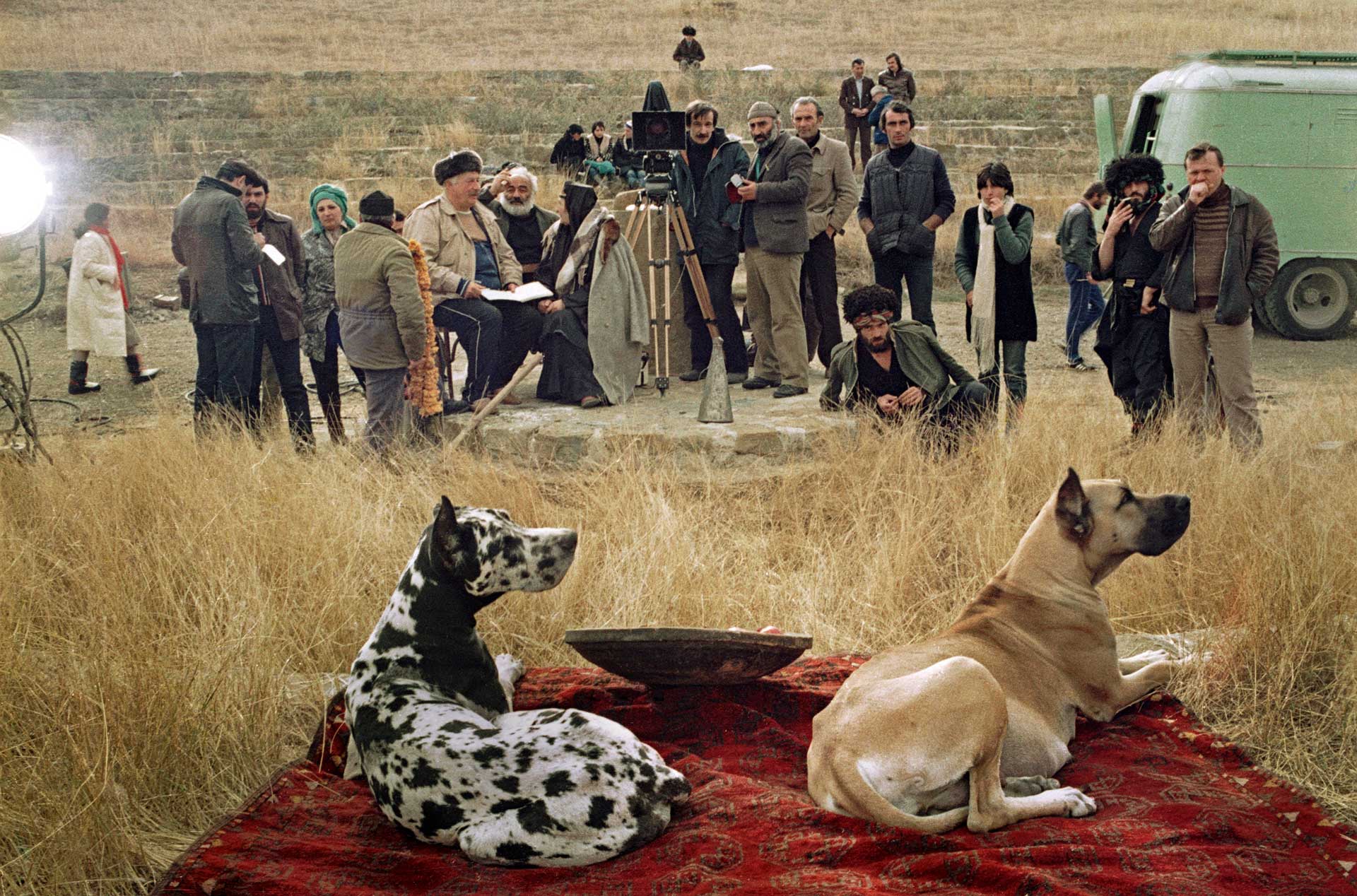 Photo taken during the filming of "The Legend of Suram Fortress". 1983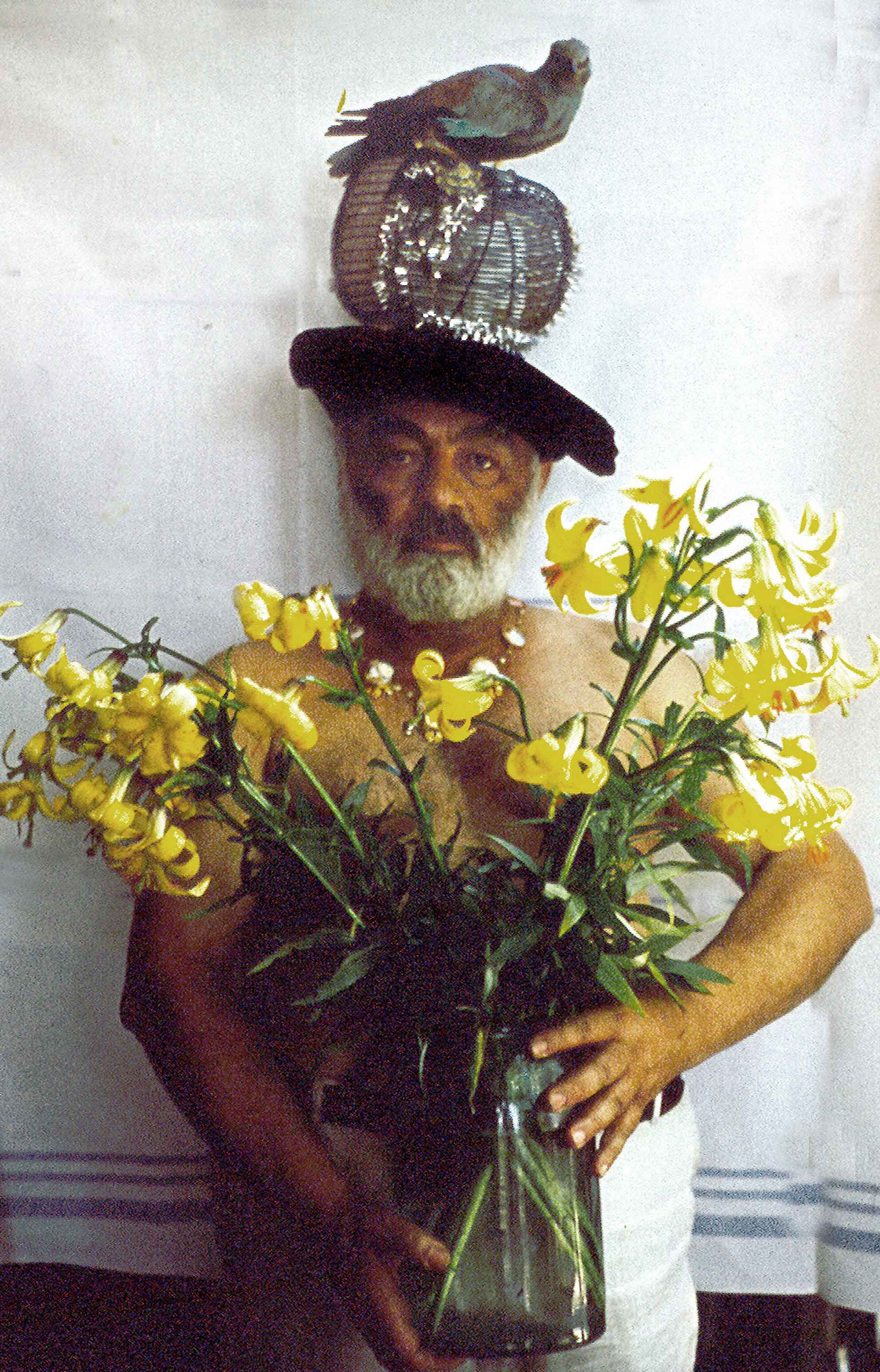 A Kurdish neighbor was patiently holding a rumpled bed sheet, which served as a background. 1988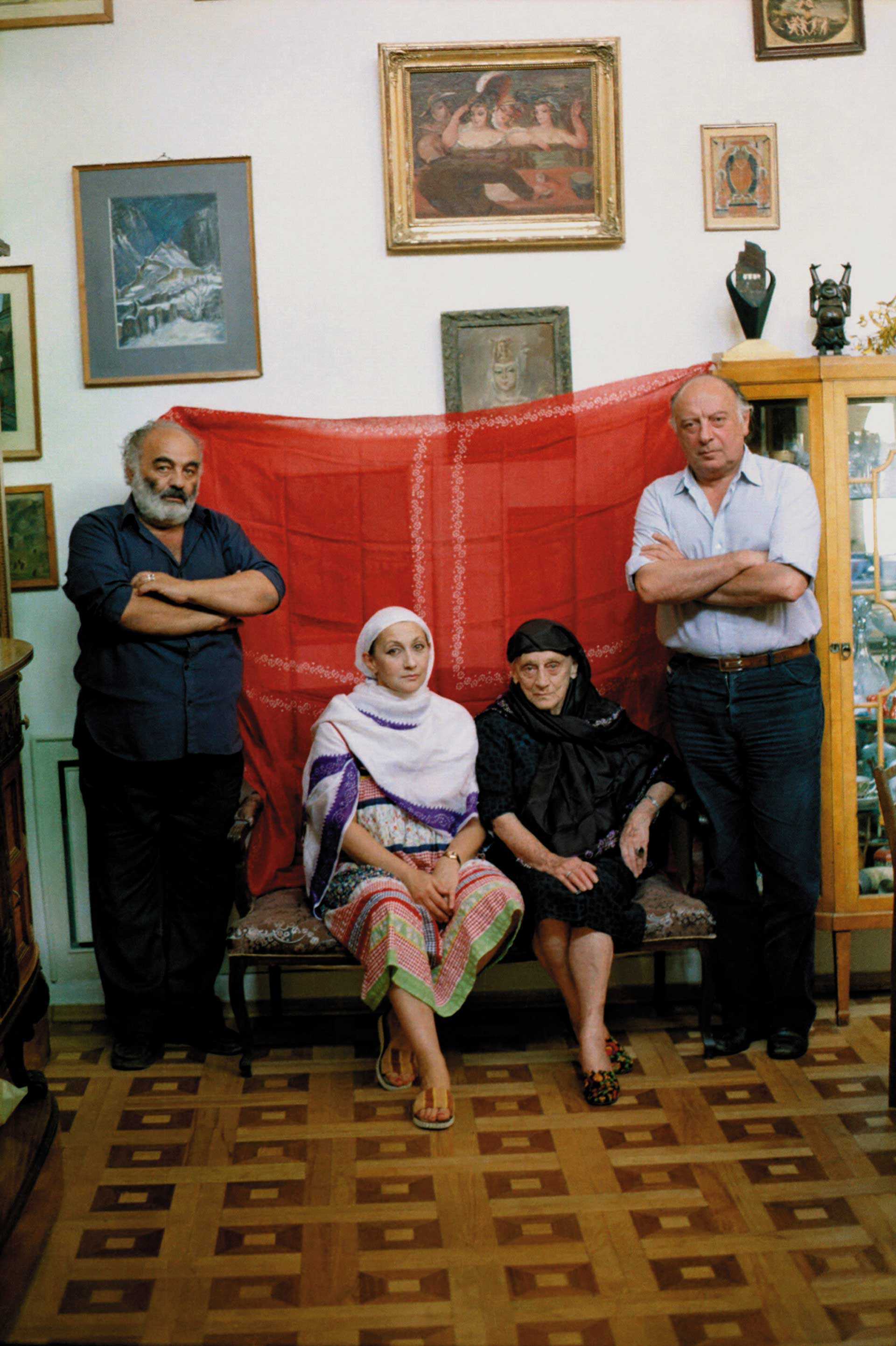 Sergey Parajanov with Sofiko Chiaureli, Veriko Anjaparidze and Kote Makharadze. Pikris Gora. 1983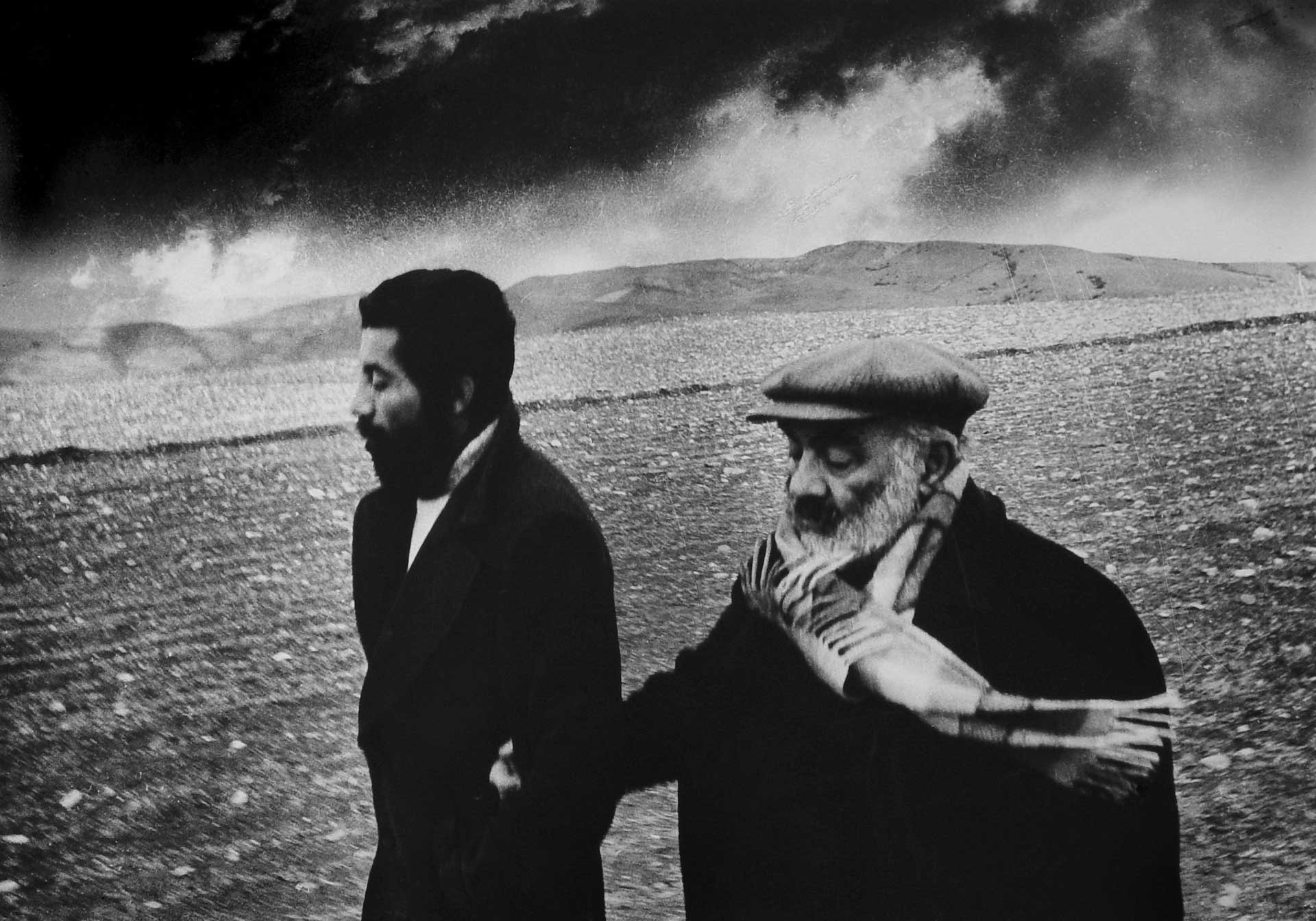 Parajanov with his cousin Alexsander Janshiev. Kaspi Region. 1983
Parajanov with his beloved hat. 1988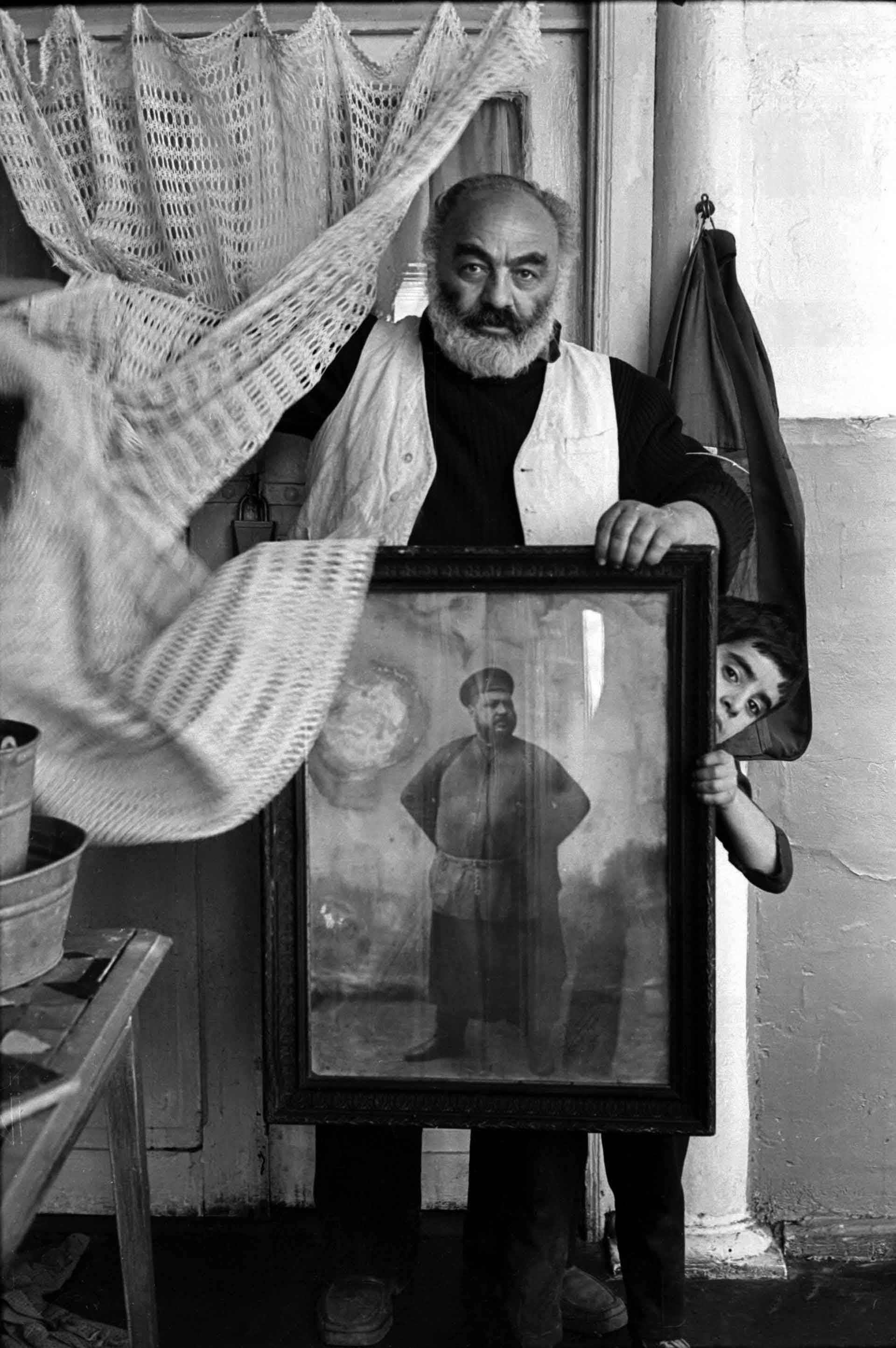 Parajanov with a Kurdish boy in his home. 1981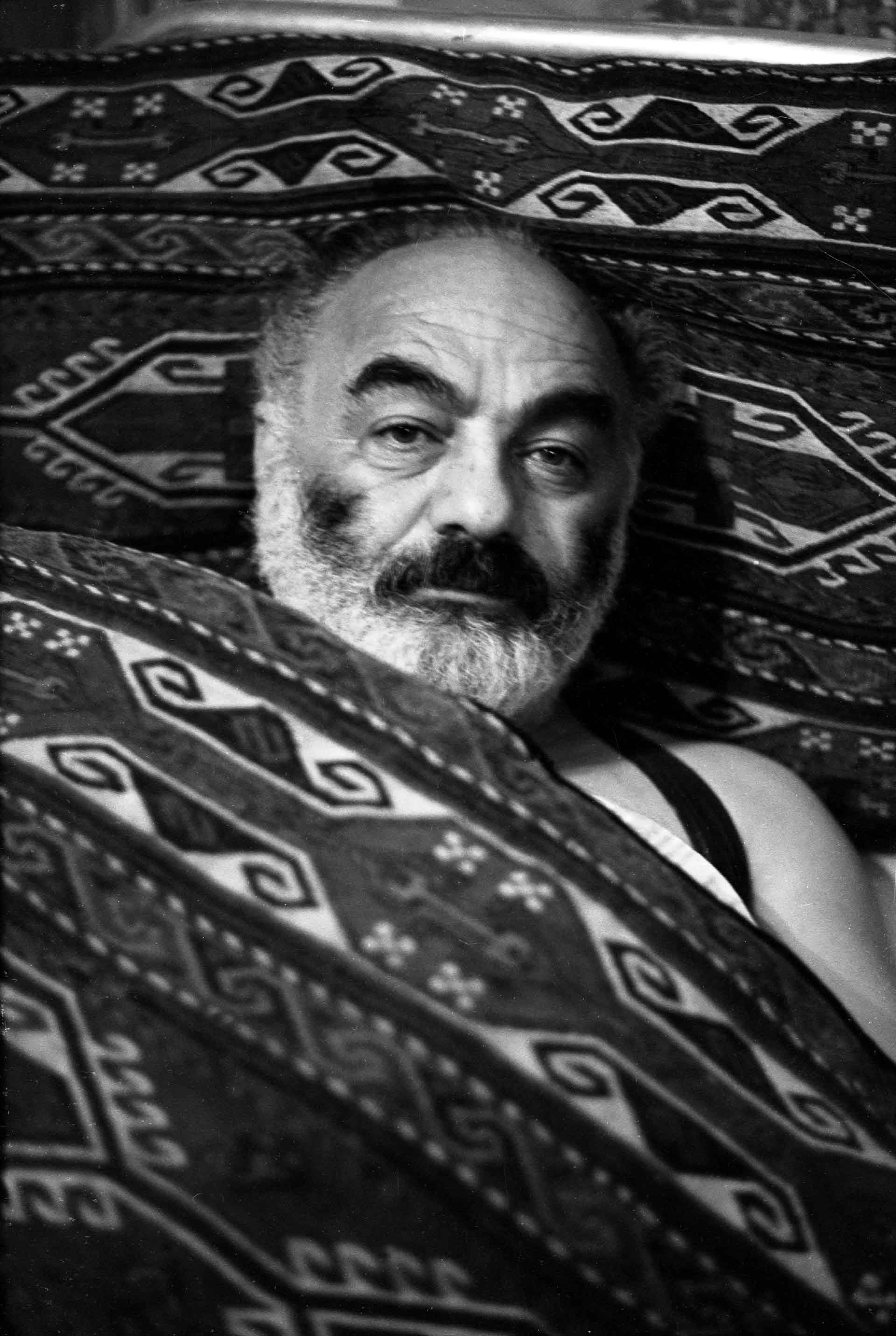 Parajanov poses with a rug or so-called Mafrash. 1980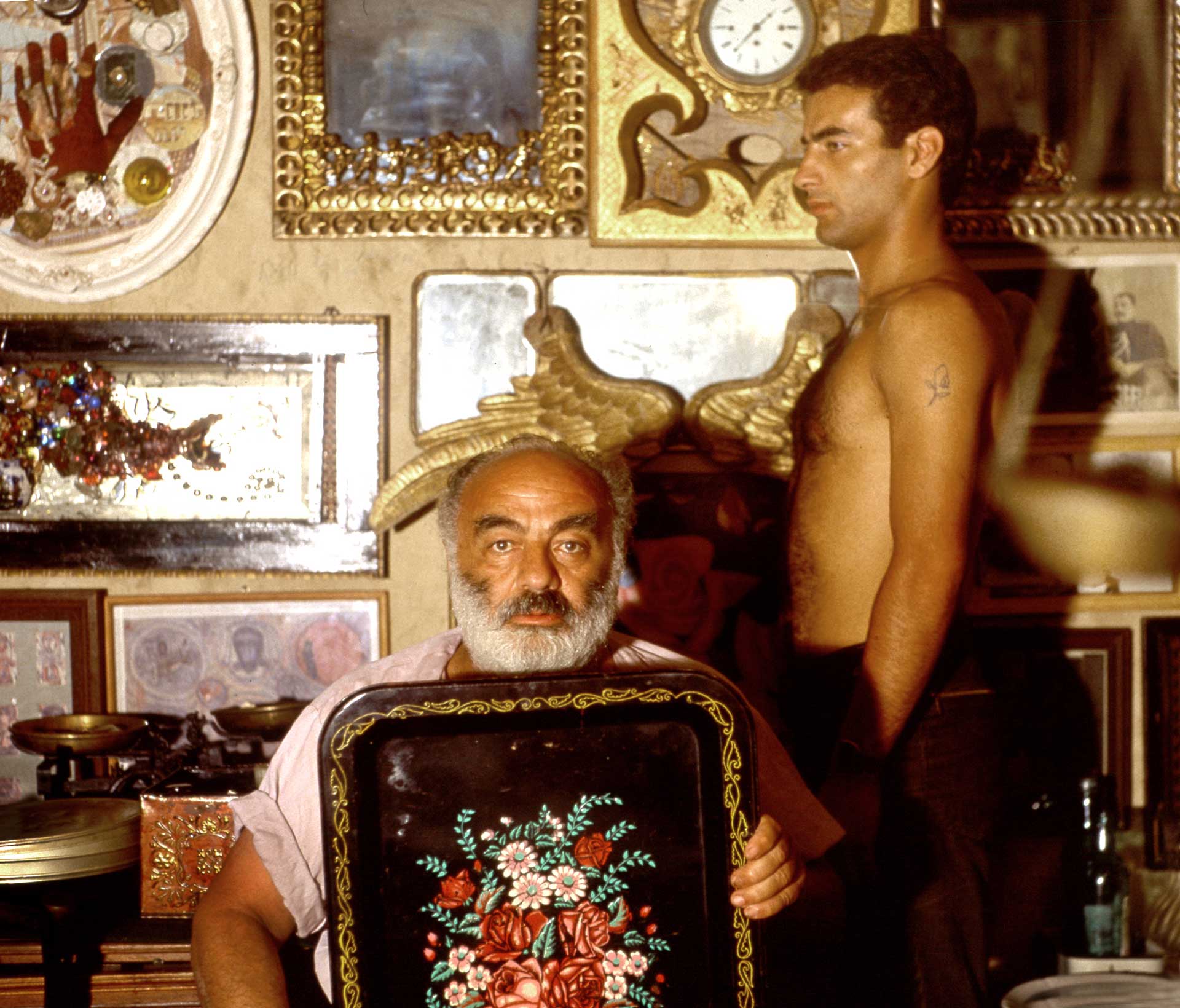 Parajanov portrayed with his neighbor, friend and the main character of his future film "Ashik Kerib. "Yura Mgoyan. 1986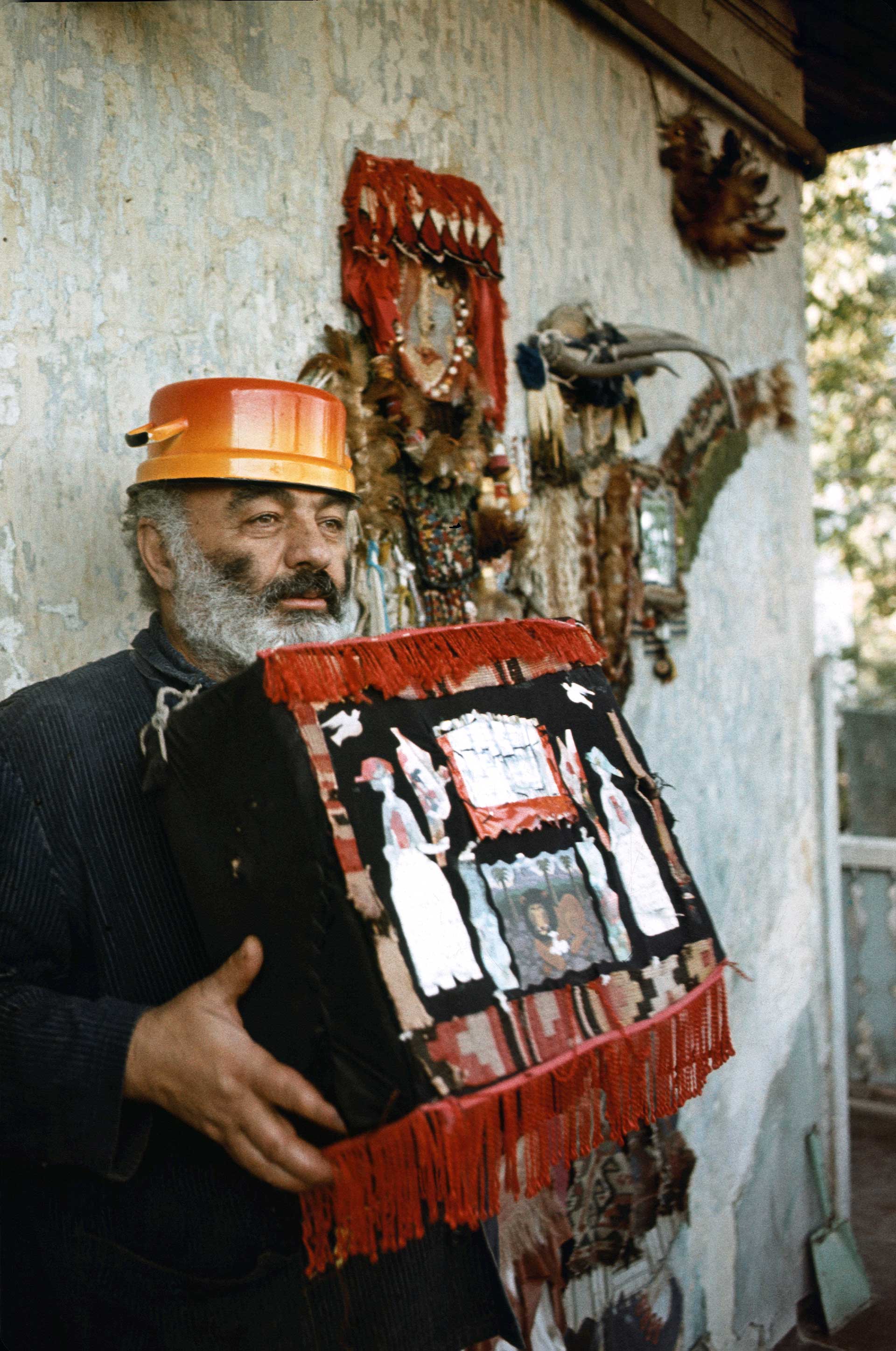 Parajanov pictured with his favorite well-mounted artwork "the dancing Kurds", which he dedicated to his Kurdish neighbors. 1981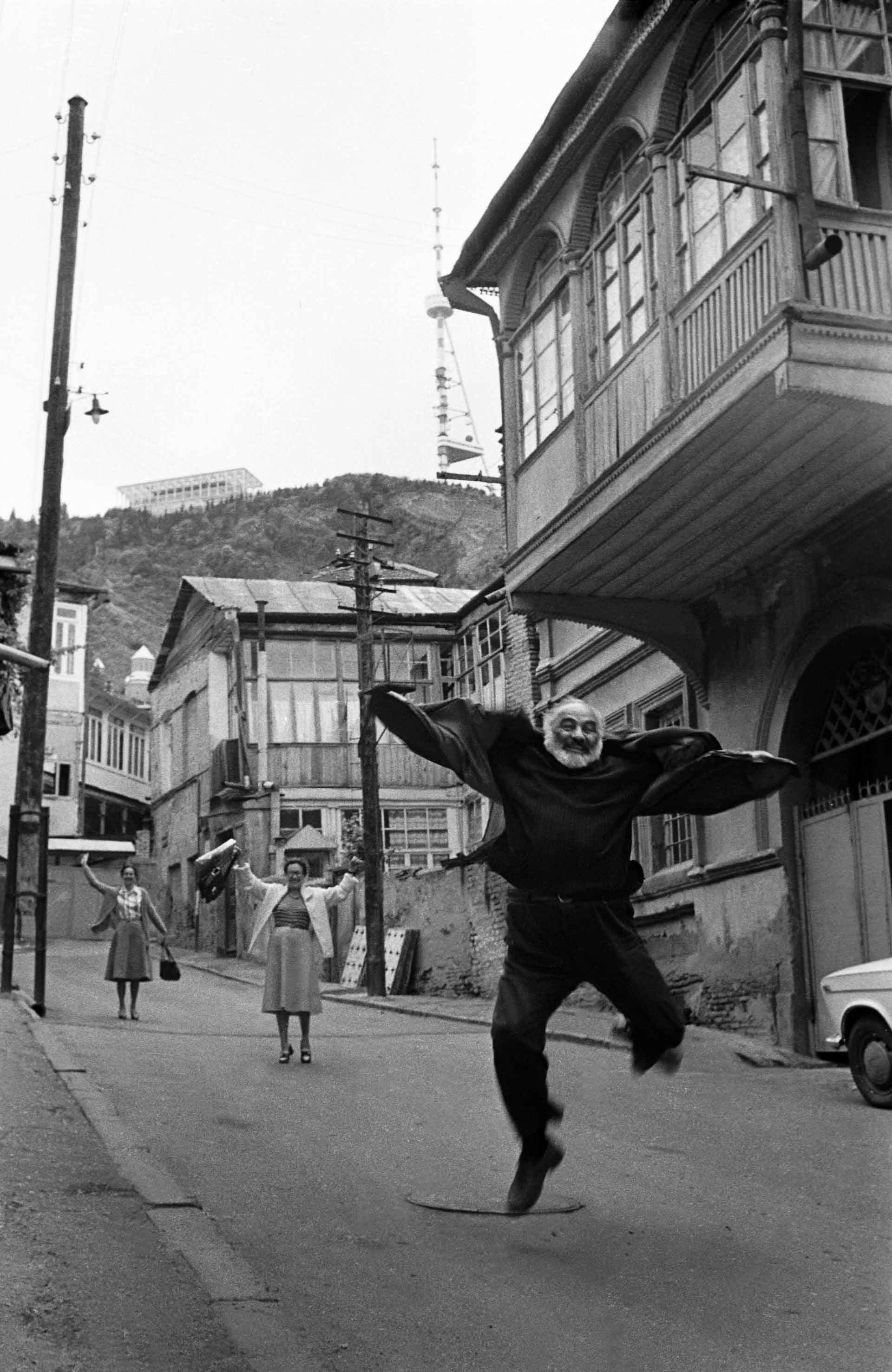 Parajanov leaping down Tkhinvali Street. Mtatsminda. Tbilisi. 1981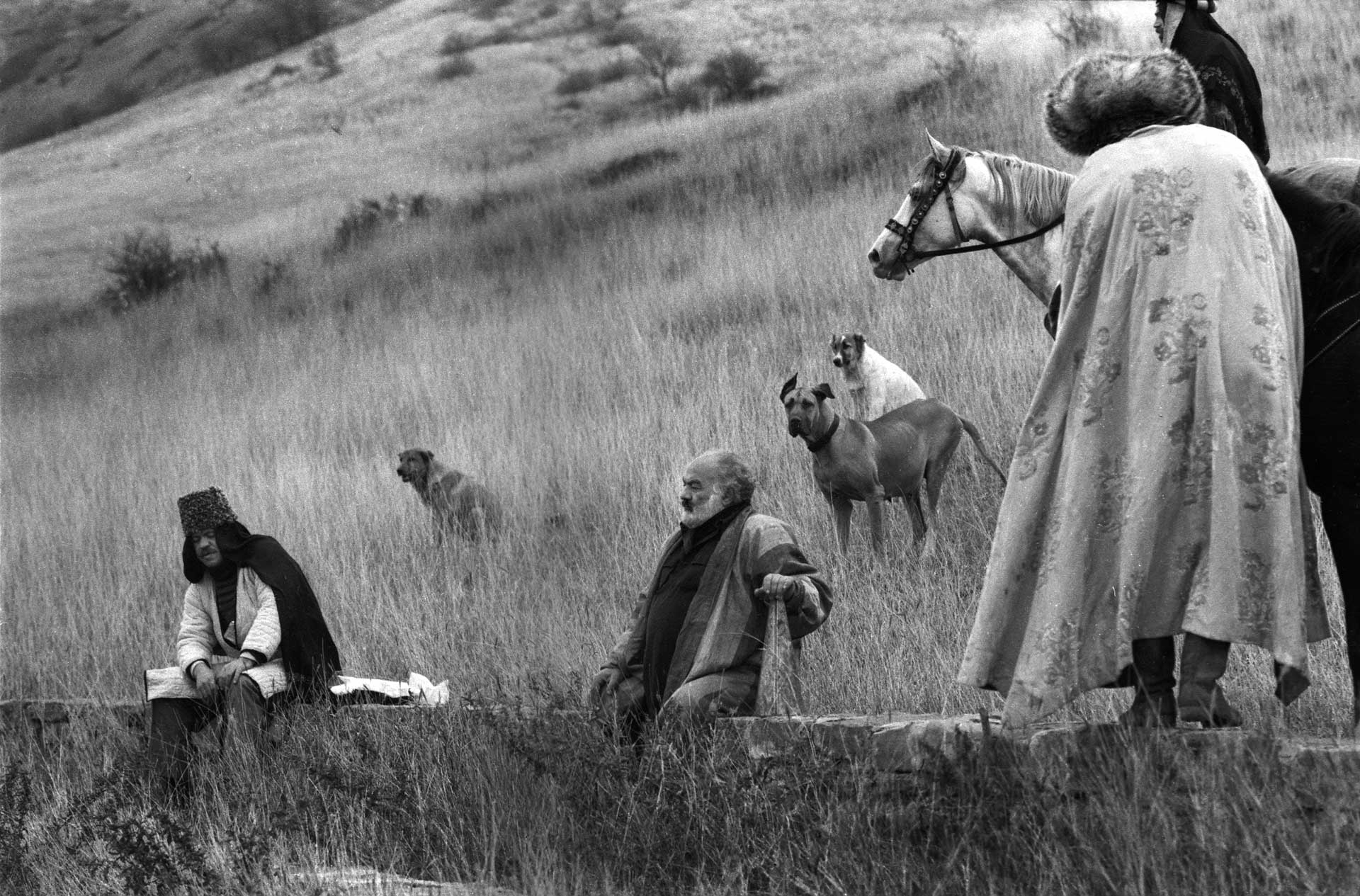 Parajanov in David Gareja, filming "The Legend of Suram Fortress". 1983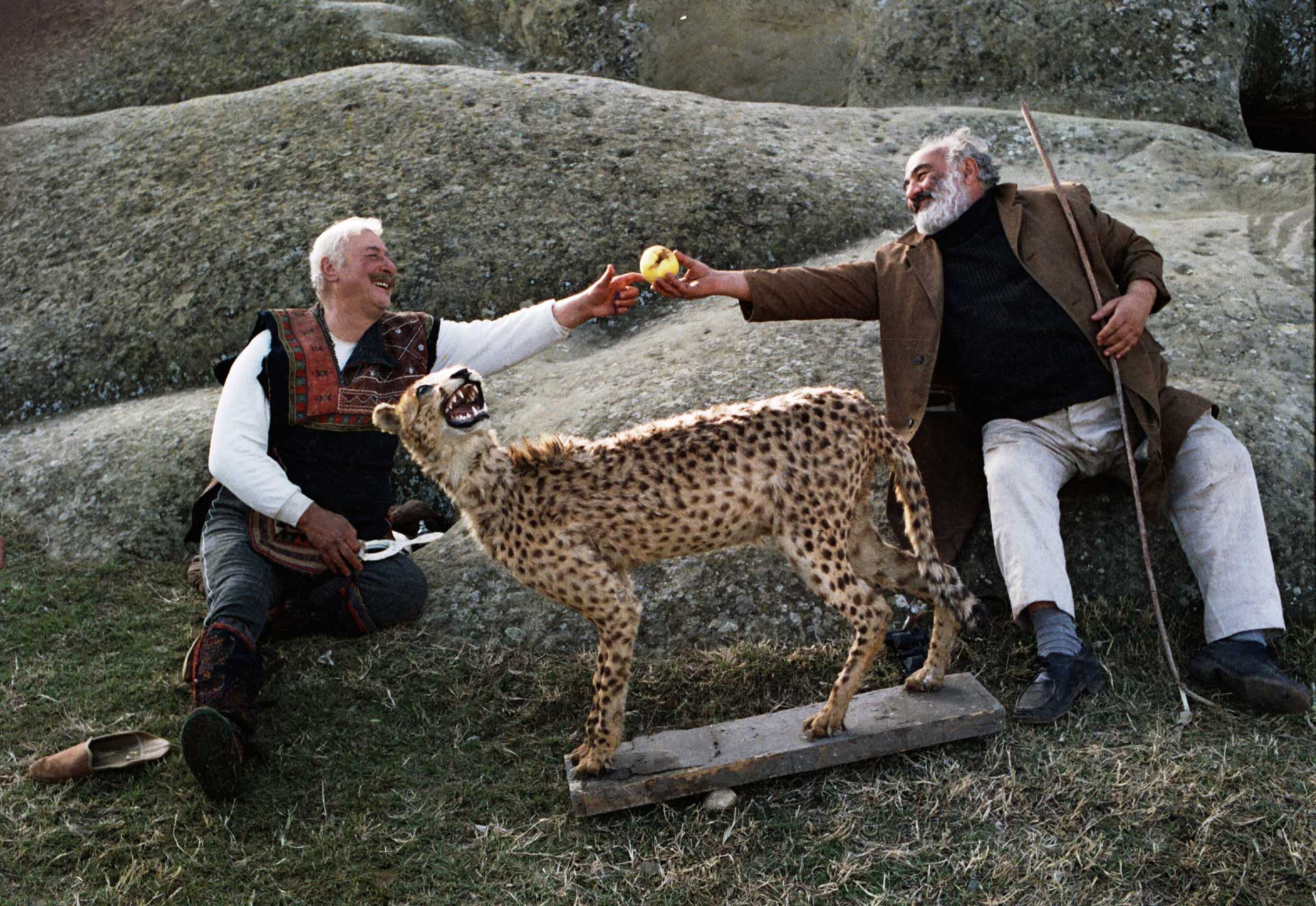 Parajanov and celebrated Georgian actor Dodo Abashidze. 1983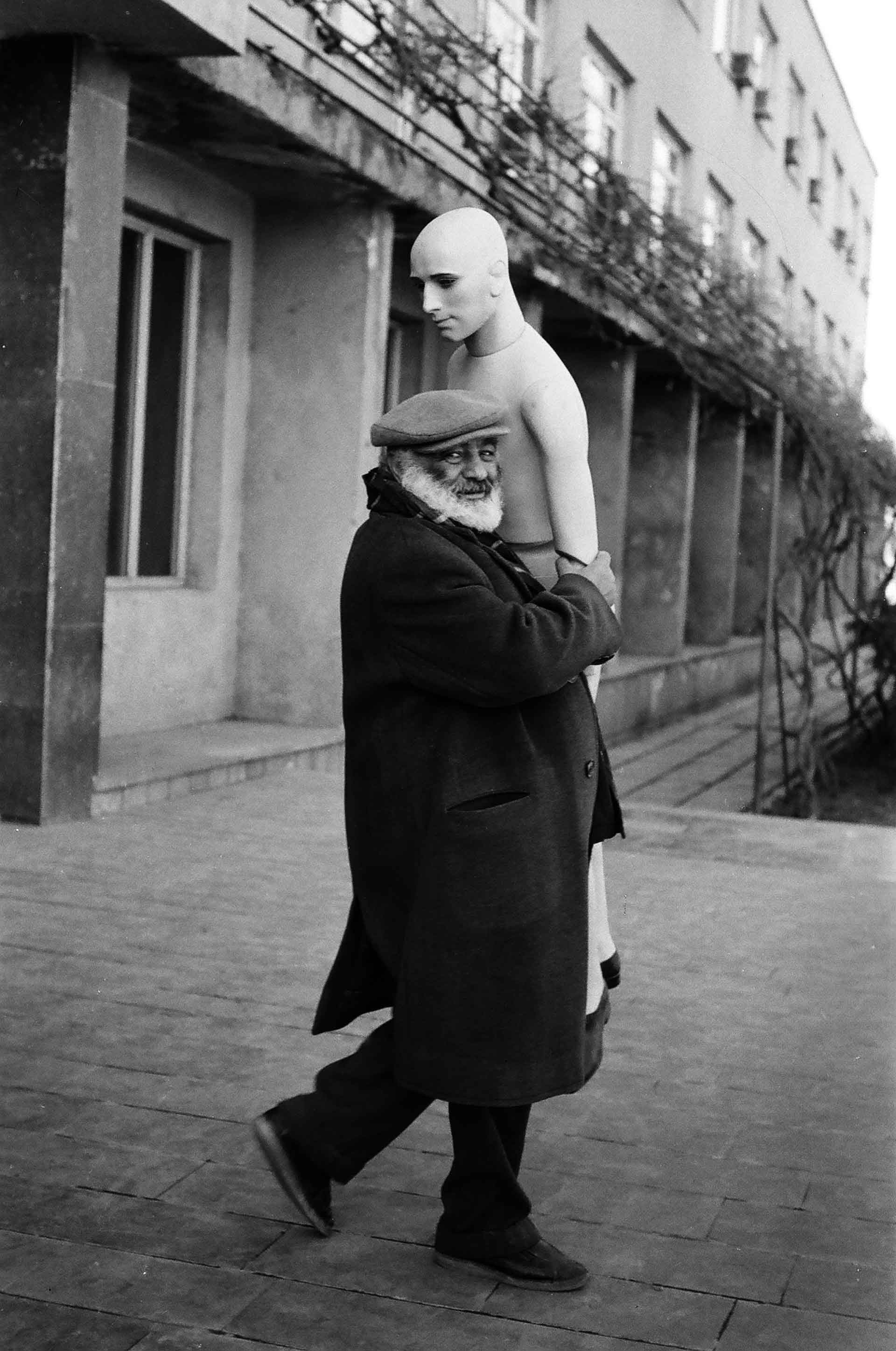 Parajanov holding a mannequin in front of the entrance to "Georgian Film Studios". 1988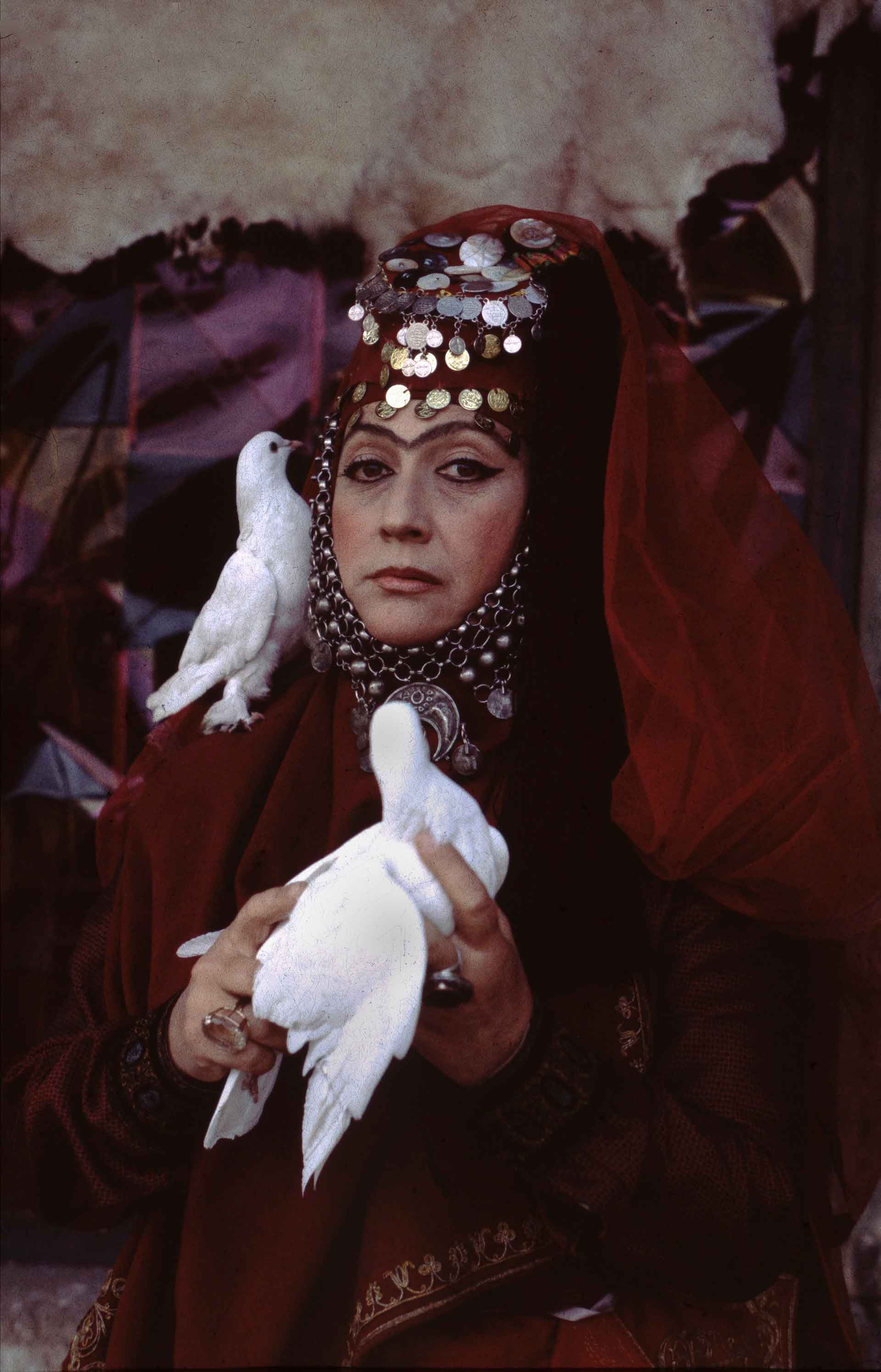 Renowned Georgian actress Sofiko Chiaureli. "The Color of Pomegranates". 1987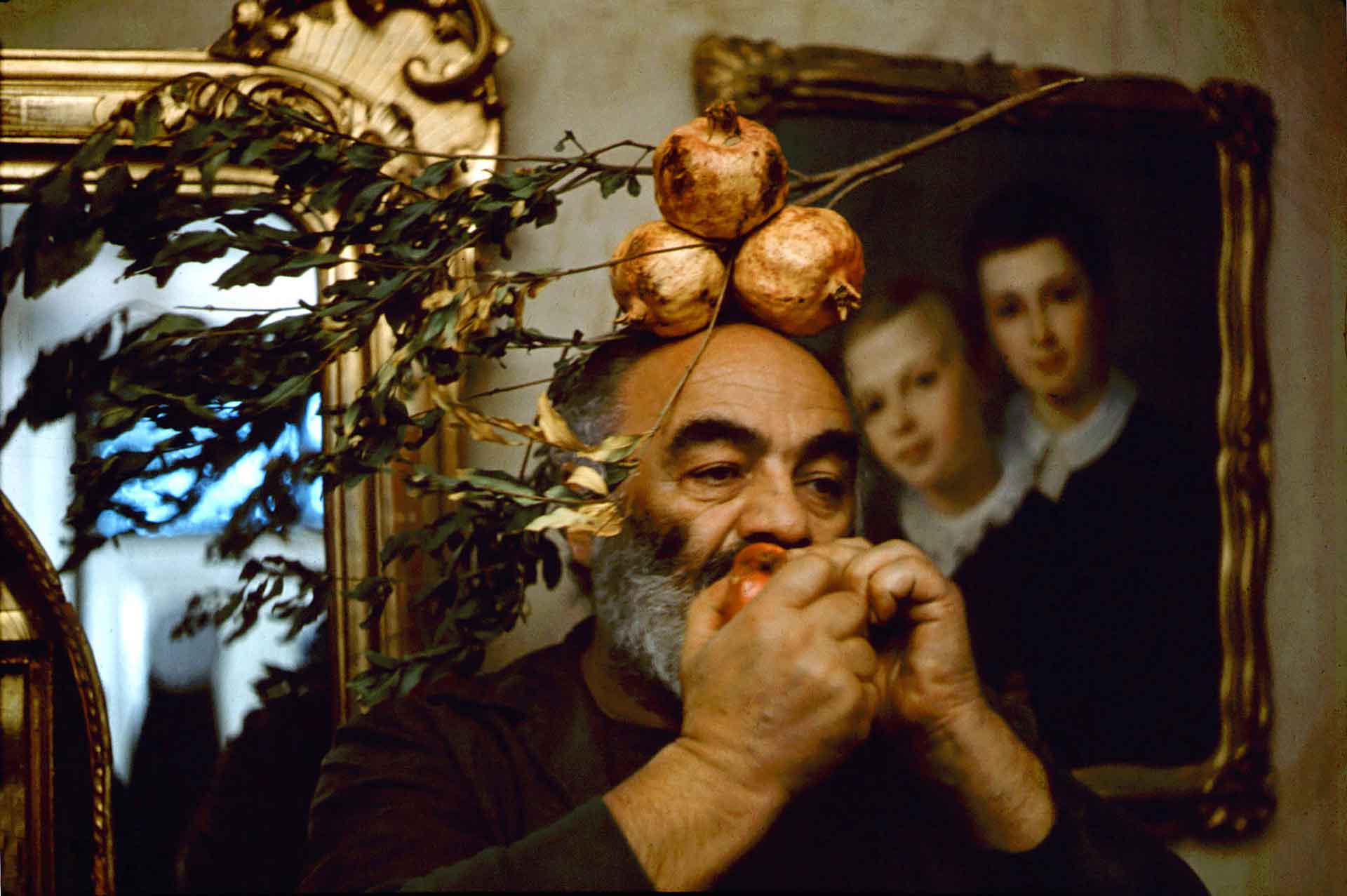 The exact date of this photograph is unknown; it was probably taken in fall 1981. Parajanov with a pomegranate branch on his head, sucking out the juice of a pomegranate – exactly the way monks did in his film "The Color of Pomegranates"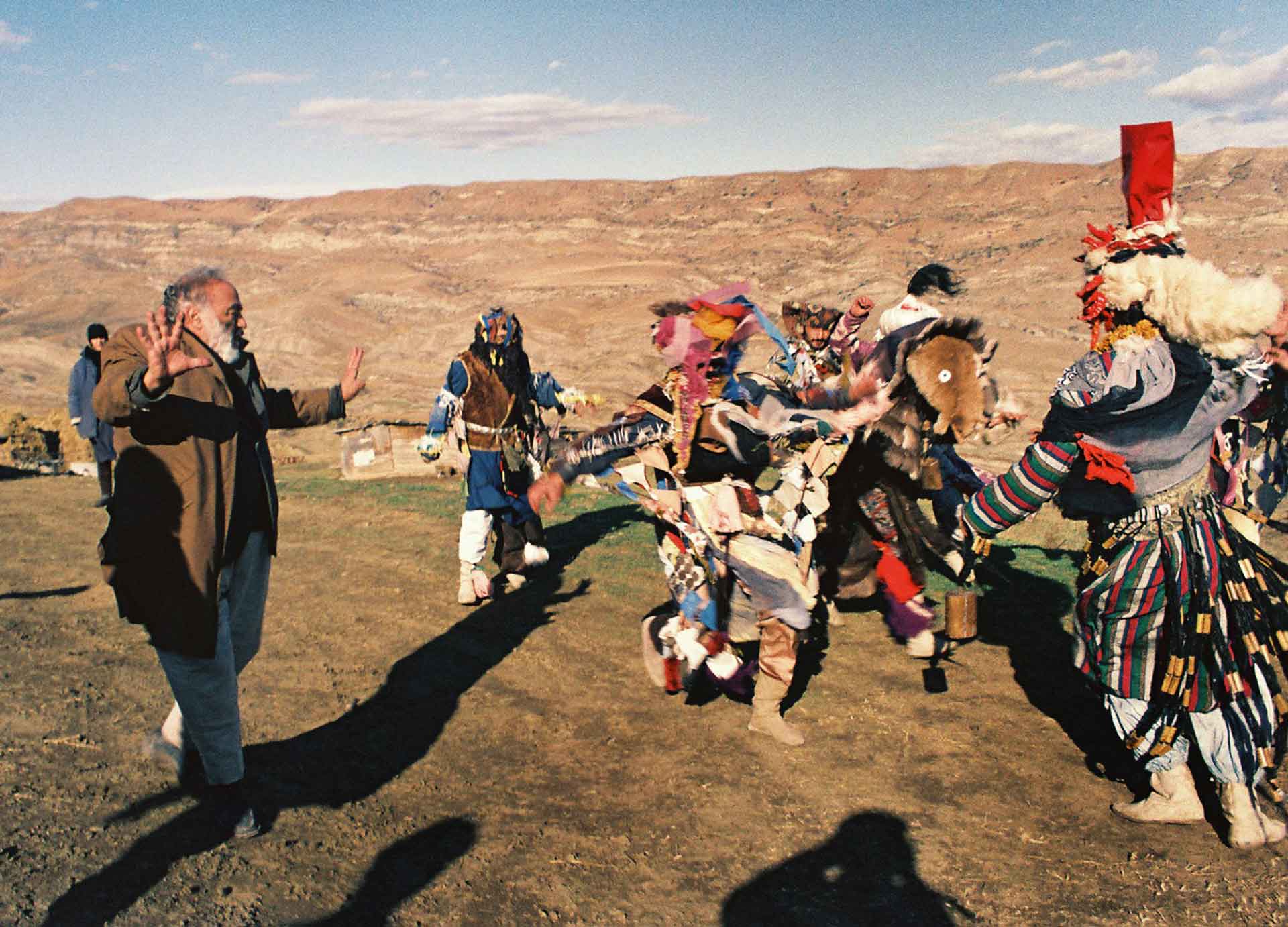 Working on the set of "The Legend of Suram Fortress". David Gareja. 1983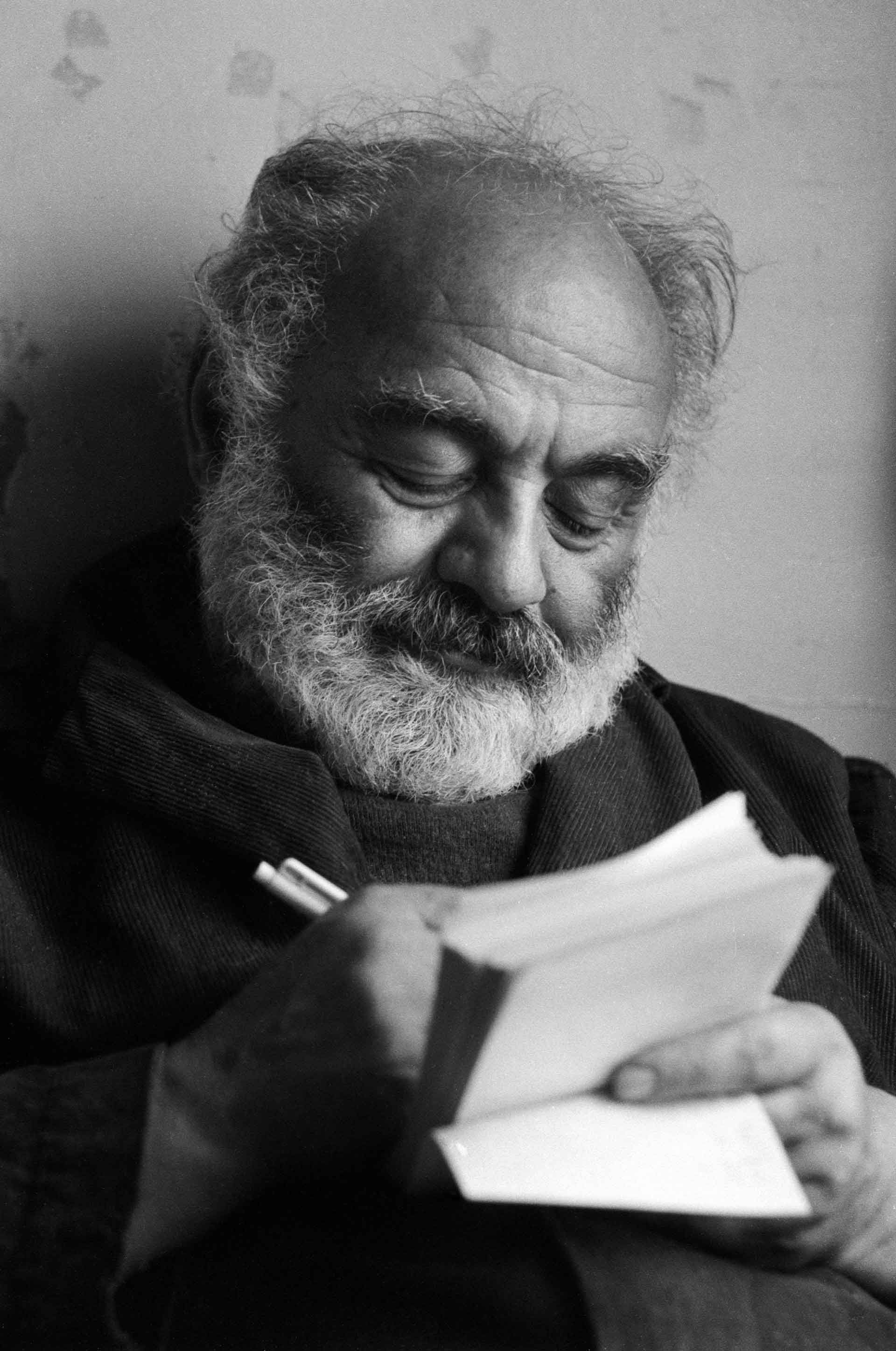 Sergey Parajanov portrait. 1987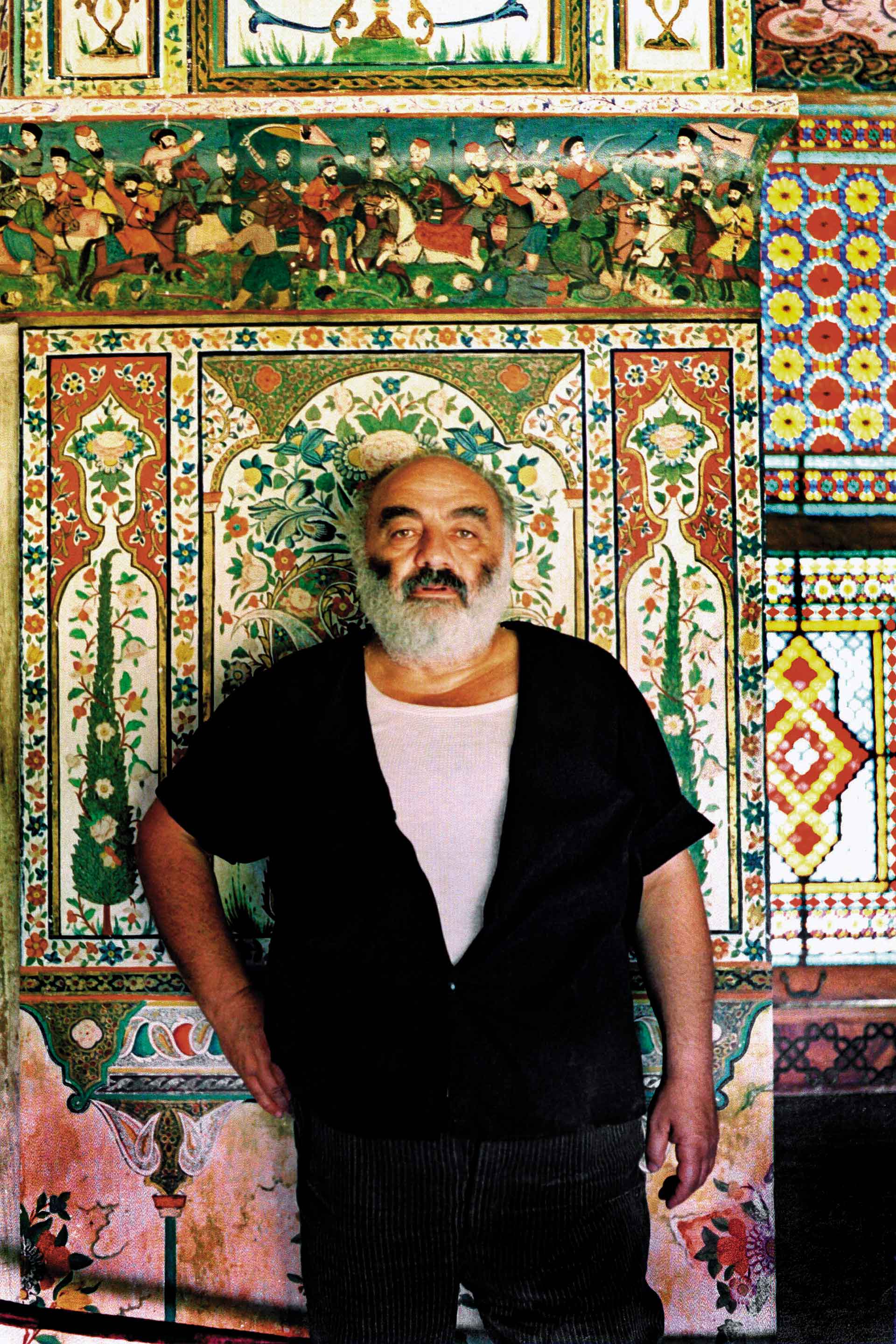 Sergey Parajanov posing against the background of a magnificent painting of Sheki Khan's Palace. 1983
Portrait of Parajanov with a doll on a Vienna chair at the entrance to his home. 1986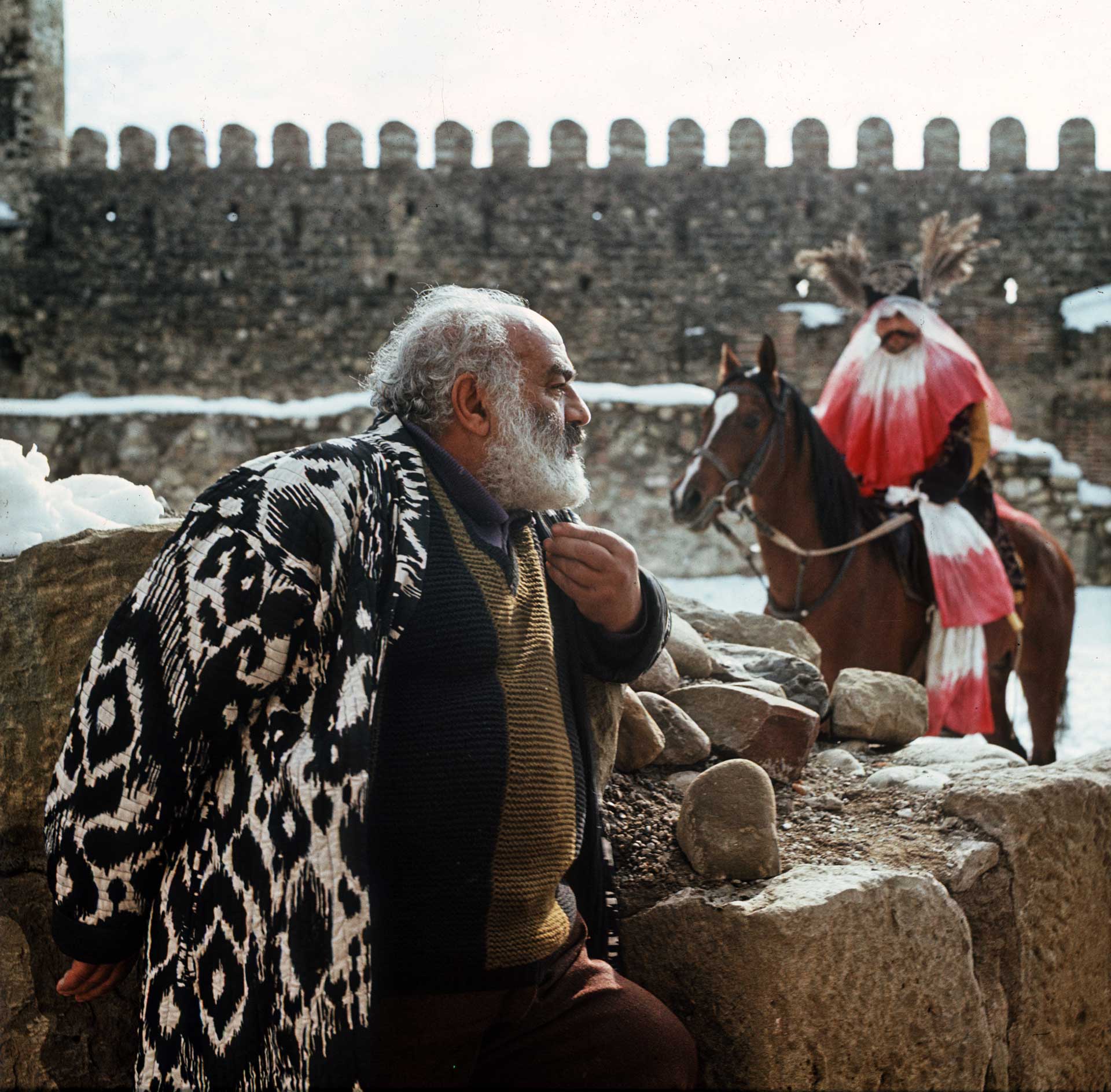 Parajanov with his favorite horseman Tamaz Danelia in the Kakhetian village of Ninotsminda during the shooting of his last film "Ashik Kerib". 1988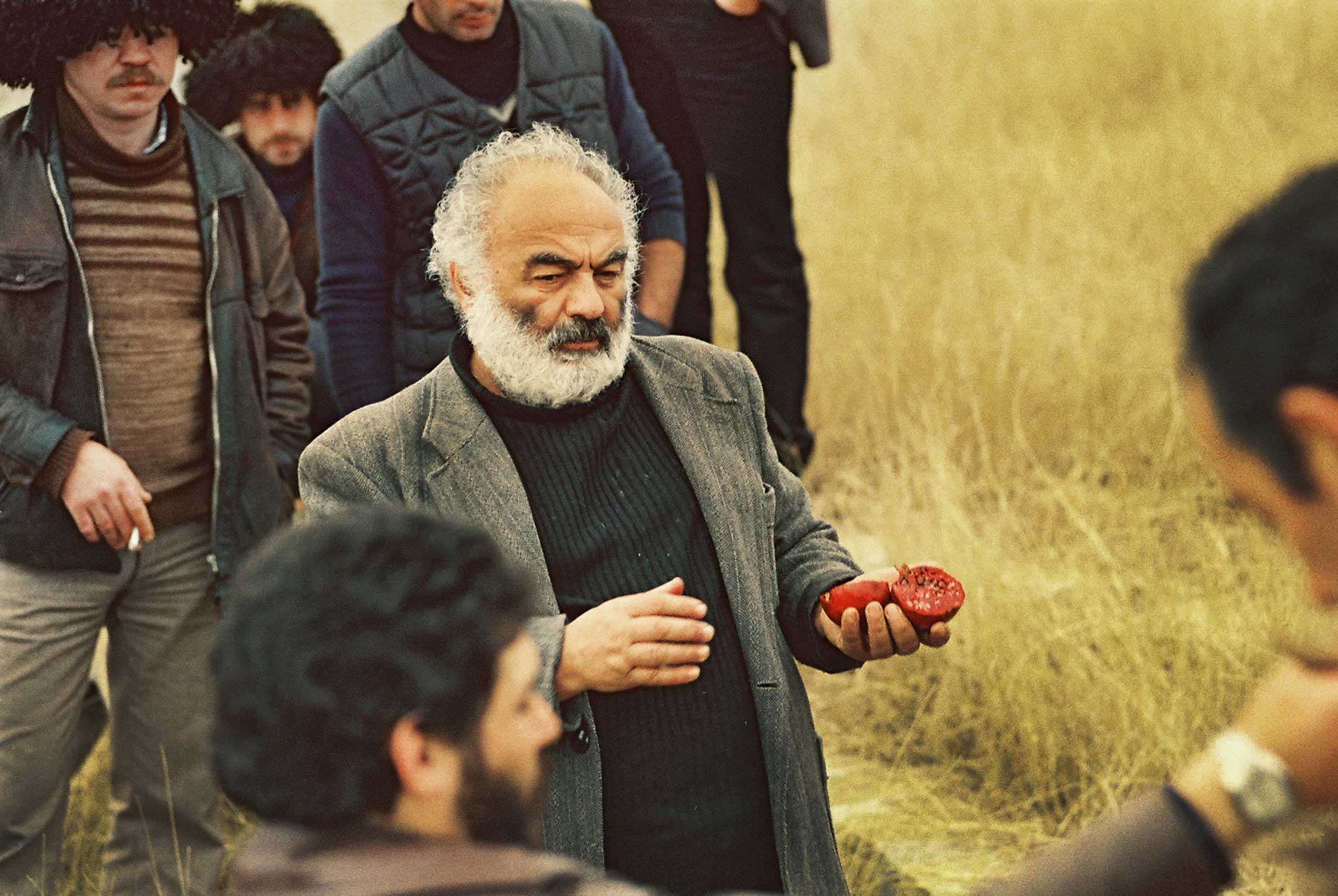 Filming on the set of "The Legend of Suram Fortress". 1983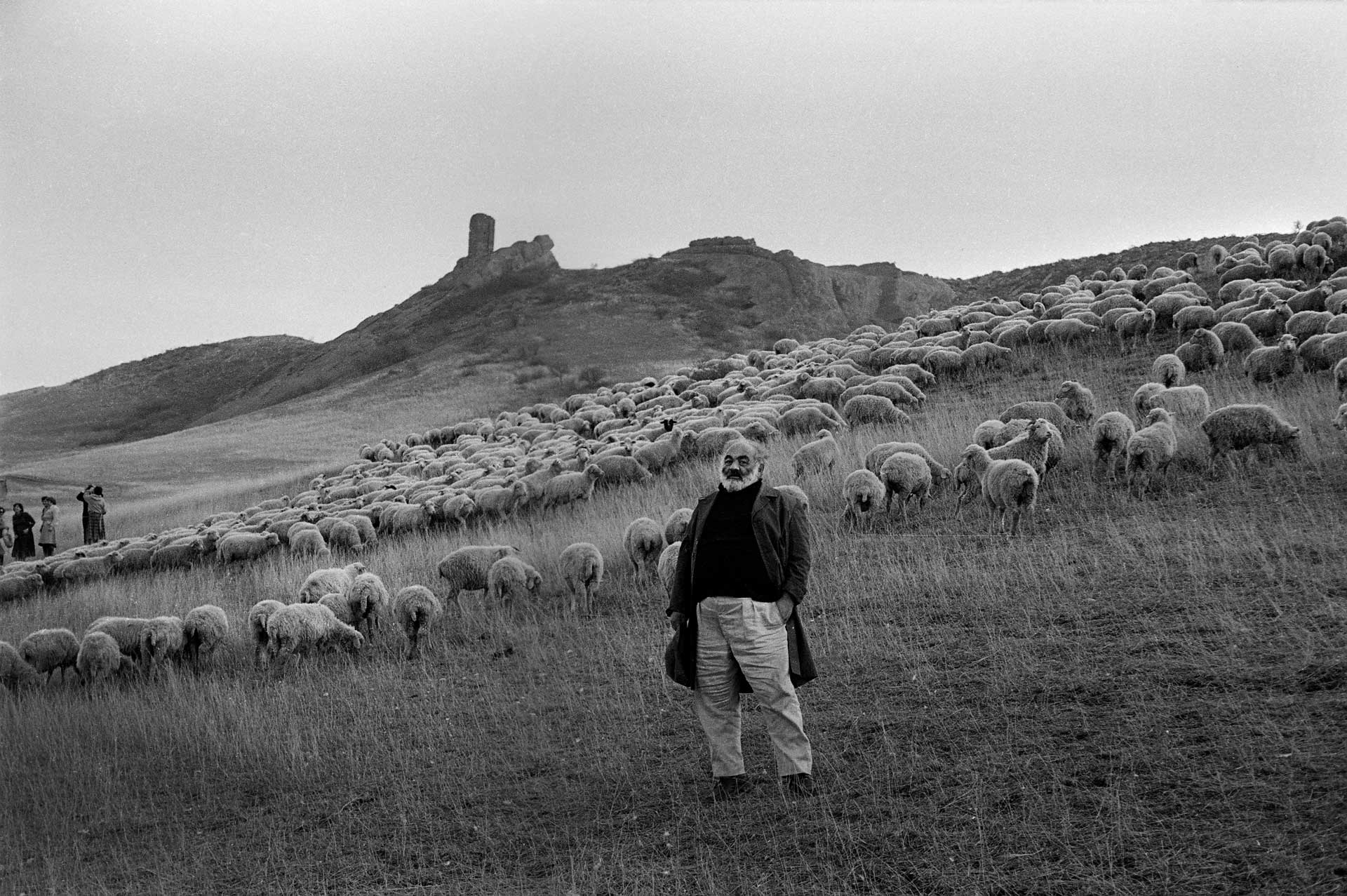 Filming on the set of "The Legend of Suram Fortress". 1983